Updates 2016
Updates 2016
2016 Revington TR/TR Register Sprint and Hillclimb Championship
CASTLE COMBE; the finale
Neil and the Beta just before the finish
Saturday 22nd of October saw us at Castle Combe race Circuit for the last sprint in our Hillclimb and Sprint Championship; in fact the last event of the season. It was a great day, if a little drawn out, as the organisers had a full entry list and fog in the morning preventing line of sight visibility between marshal points and the control tower resulting in a late start.
It was a delight to have a full compliment of TR's competing, 11 in all from Toms relatively standard TR3A to Bobs super looking and super fast TR4.
The lovely TR3A of Tom Purves
As the TR class were the last group on the entry list, by the time we lined up for the first practice the fog had all but gone although the track was certainly cold. Practice was uneventful with times steadily improving.
Most seasons some of our class positions are decided at this event, this year that was between Tom Purves in his TR3A and Graham Ramsey in his TR7 for Class 1 honours, both having the same points at the start of the meeting. On the second run Graham couldn't match his practice times and his best was 109.04, beaten by Tom with 108.16 to take the Class 1 award.
Mandy Small was looking to score a reasonable time to take the Ladies Award in her first season and achieved 102.64 on the day.
Andy. aiming to beat his 94.00 bogey, managed 95.92 on his first run but the slicks were too cold on the second run to improve on this. Bob (Hooligan) Barnard was going for the 10 points with gusto and managed a very respectable 91.38 seconds to beat the bogey by just over half a second. Eddie Mace in his recently acquired TR6 recorded 107.49 a good time considering that he is still getting used to the car but is certain to be out again next year.
Mandy Small TR7
Bob Mead had a little hiccup when he seemed to run out of fuel on the back straight. I had lined up behind Bob so I was the next car round and I was red flagged as I passed the stricken Bob on the grass. He got it going again and back in the paddock. Many heads under the bonnet concluded that the only possible culprit was the fuel pump which whilst delivering a good flow of fuel had little pressure. Fortunately Bob had another pump which once fitted gave no further trouble. Bob managed a magical 99.63 seconds on run two to join the under 100 club.
Andy Bradnum GT6
In SCO110B I matched my practice runs despite being failed following Bob stopping on course with a 96.82 first run.
The event did finish before dark or the circuit curfew with our results being signed off at 17.50. The awards were presented in the Strawford Centre, Roger (seen here in the paddock with Graham, the tallest person in the world) had arranged for the organisers to present the days award for the triumph class based on our handicap system. As it happens this was won by Rod Warner who was fastest anyway so he would have won the day by either reckoning. Martin came 2nd and Hooligan Bob 3rd on handicap based on our bogeys.
Roger McEwan with his TR6 and Graham Ramsey.
Congratulations to all winners on the day and to the championship overall and class winners which I have listed below. I look forward to seeing as many of you at the drivers meeting on November 26th and the presentation dinner that evening.
Happy Chappy Nick Smith 2016 Champion
As well as championship contenders present as competitors we were joined by our champion for 2016 Nick Smith and 3rd overall Dale Huxford albeit not competing as well as Martin Paine our runner up who was competing on the day. Congratulations to you and all the other award winners. Both Nick and Dale obviously were trying very had during the season witnessed by Nick trashing the car into the armco and Dale trashing his engine (I told you 9500RPM was not on) late in the season but having put up sufficiently sterling result duration the year that a result at Castle Combe was not necessary, their places were secure.
RevingtonTR/TR Register Sprint and Hillclimb Championship Awards 2016
RevingtonTR/TR Register Sprint and Hillclimb Championship Awards 2016
Champion
Nick Smith
2nd Overall
Martin Paine
3rd Overall
Dale Huxford




1st Class 1
Tom Purves




1st Class 2
Bob Barnard
2nd Class 2
Roger McEwen
3rd Class 2
Steve Small




1st Class 3
Tony Browne
2nd Class 3
Jim Giddings
3rd Class 3
Rod Warner




1st Lady
Mandy Small
Thanks to Dale and Tom for the use of their photos. Neil Revington

---
Previously......
This season Neil and Sue Revington have taken a new approach to the events entered in the RevingtonTR/TR Register Sprint and Hillclimb Championship. In a busy life it has always seemed appropriate to get up early, dash off to the event and drive home that evening so this year we decided to spend long weekends away around the hills and sprints.

The concept has worked out well invariably leaving on Thursday afternoon and returning on Monday morning combining a leisurely weekends away with hillclimbs and sprints to make the whole weekend a much more rounded and enjoyable affair. For that reason I have hardly turned up in the same car twice!
In June we attended the Epynt hillclimb and stayed in the area for a few days exploring. The local village of Sennybridge has a few local pubs/hotels that are handy for staying Friday night so the trek to the start is reduced to a handful of miles.
The local churchyard is worth a visit. It contains the oldest tree in the whole of Europe if not most of the world. It is a Yew tree dated at 5600 years old. Image what has passed beside its trunk in all those years! Oh yes the hillclimb. Well its Wales and it rained. Say no more.
Later in June we went to Aintree which coincided with our 40th wedding anniversary so we spent some great days in Liverpool
and a cracking meal in the panoramic 34 restaurant which is on the (have a guess) floor of the West Tower with a (have a guess) view. The sprint takes place on part of the old Grand Prix circuit and is at first a simple circuit but has its challenges. If you decide to take a few days there take a tour around the art deco Air Vent building (see picture) for the Queensway tunnel and we took a National Trust tour of both John Lennon's house (Aunt Mimi's house actually) ad Paul McCartney's family home. Well worth it.
In July we travelled to the North West again to take part in the 3 Sisters sprint. A twisty circuit with more types of tarmac than the name implies. The circuit is also used as a go-kart track so is well and truly twisty. Ideal for a well set up early TR with good suspension. Whilst there we stayed in, of all places, Wigan. Yes we visited the Pier and there is a fantastic park (Mesnes Park) just near the Wetherspoons pub we stayed in.
3 Sisters Circuit
I was surprised the town seemed not to capitalise on the Northern Soul scene in the same way as you can't move in Liverpool without seeing Beetles related stuff and the Mersey beat scene.
Loton Park in August saw us spending time in Shrewsbury and the birth of the industrial revolution at Ironbridge. Loton Park is a great hill, quite long and certainly has challenging bits. For once we did both days and as the sun came to join us along with a great crowd of Championship contenders the motorsport element was one of the best of the year.
The fast and furious drivers discussing tactics over lunch
Manor Farm sits in fabulous surroundings 6 miles from the coast with the sea dominating the landscape between two hills.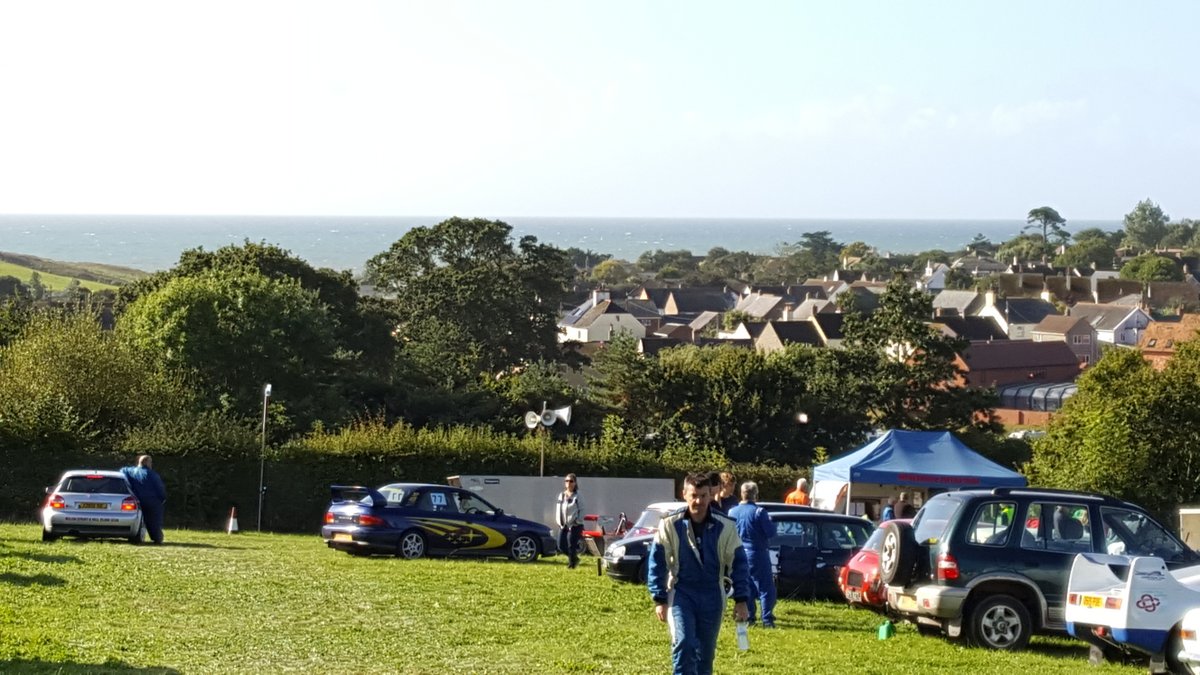 The venue is a holiday park which has its own access road tunnel joining parts of the property either side of the busy A35. The tunnel forms part of the short but twisty and interesting circuit. Just two of us there for this event, myself and Bob Mead. our timed runs were always in sunshine but in between the heavens opened so we had a wet track to contend with. By contrast our last of 3 practice runs was completely dry so we did get an indication of how fast we could have gone.
The bench mark is 30 seconds (I said it was a short hill) so I was pleased with 32 seconds for my 3rd practice run on a track I had not been to before. Even though there were only two of us in our class, 1st in class was awarded. I couldn't possibly say who picked that up!
One more event to go now. Castle Combe in October which winds up the year.