KIT SUSP pol TR250/5/6-7/8"ARB POLY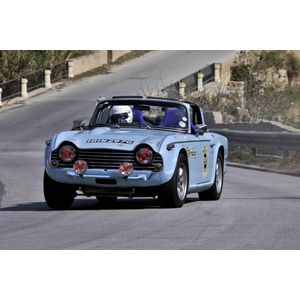 TR250, TR5 & 6 Fast road suspension package using Superpro polyurethane upper and lower inner front suspension bushes and rack clamps.

This kit includes a 7/8" diameter front anti roll bar with Superpro polyurethane links and rear 5/8" diameter anti roll bar with spherical bearing jointed links. The Kit offers a ground clearance of 135-145mm. This kit consists of all the components you are likely to need to undertake a complete front and back suspension rebuild as it includes all bushes and uprated parts as well as springs, dampers and associated fittings. This kit gives a softer feel to the suspension and steering than its sister kit RTR3257NK, but trades a small amount of suspension performance. This kit would be chosen instead of RTR3257NK where performance is less important than ride quality. Please note the image shown against this product depicts Nylatron bearings whereas this kit is supplied with Superpro Polyurethane bearings. Not all parts supplied, only the major components are shown in the picture.
This TR250, TR5 & 6 kit include all bushes, springs dampers for a complete suspension rebuild, including our own telescopic rear conversion RTR3003K series, as well as front and rear anti-roll bars.




Suspension and steering
To view the Triumph Catalogue Plates, please pick a car type