CLICK TO VIEW


TRIUMPH PLATES
GASKET HEAD COPPER TR2-4A 2.5 MM THICK

Price Ex VAT @ 20%
£170.76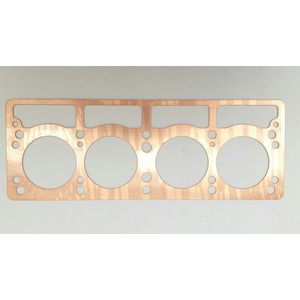 TR2-4A Solid copper head gasket nominally 2.5mm thick (depending on material availability, the gasket may be slightly thicker or thinner).
Available in nominal thicknesses of 1.0, 1.2, 1.5, 2.0, 2.5mm.
Various thicknesses allow for alteration to compression ratio where too much material has been removed from the head. Suitable for all engines of bore 83mm to 93mm. These gaskets come with fitting instructions as they need to be annealed before use and can be reused after annealing.
We are often asked if it is acceptable to skim xxxx thousands of an inch or xxxx mm of a cylinder head when another (usually longer duration) can is installed.
This approach to head skimming, whilst in principle is correct (to increase compression ratio with a longer duration cam), by simply shaving off a number or thou is not the correct way to go about it as there are other factors to consider such as gasket thickness, combustion chamber size and piston diameter.
What you should be doing is: -
1. Measure deck height (height of pistons below the face of the block)
2. Measure piston diameter
3. Measure head volume (usually done with a piece of Perspex set over the head with grease to act as a sealant with two small holes, one to introduce measured quantities of paraffin and the other to let air out)
4. Measure gasket thickness. The special head gaskets we supply made of solid copper can be shaped to match the combustion chamber. This would be 1mm thick usually if the head is likely to be skimmed. In some cases the head is already too thin in which case we have various sizes up to 2.5mm thick.
5. Choose a suitable compression ration as advised by your cam supplier (likely to be 9.75-10:1 for a fast road cam, up to 10.5:1 for a sprint or rally cam and up to 11.5:1 for a race cam)
6. Calculate head volume required and give this information to your machinist to machine off the right amount to achieve the correct head volume. Revington TR can calculate this for you as we have a spreadsheet set up for this.
You will need and we can supply
Copper head gasket which can be fashioned to suit the head shape.
Heldite sealant
Suitable push rods
Other gaskets
Once you have done this you can expect the engine to run badly until it is properly tuned on a rolling road to ensure the engine s ignition and carburation settings are correct throughout the rev and power range. Depending on where you are in the world that might prove easy or difficult. For those customers within reach of Revington TR in Somerset we can offer this tuning service as we have a 400hp rolling road in our workshops.