ROB ROAD TR4-6 SOFT TOP NO DIAG + HARNESS BAR

Price Ex VAT @ 20%
£474.83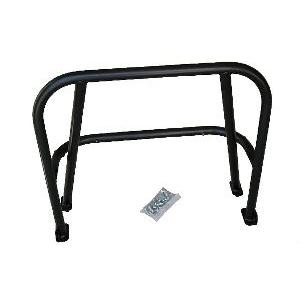 TR4 - TR6 Soft-Top cars. ROB Road, no diagonal, with a harness bar.
Revington TR's road bars are designed for the casual road user who wishes to increase the safety of their TR but doesn't necessarily wish to use their vehicle for competition. To make the bar less of an obstruction, more convenient and to reduce the cost of the bar, road bars do not have a diagonal brace but do have 2 angled back stays. The bars are still made out of the same high quality steel as the competition bars and therefore give you that extra piece of mind in case of that unfortunate occurrence of an accident.
This ROB kit includes an integral harness bar, many owners, whether using their car on the road or the track, will find the use of a harness both comfortable and reassuring. If you have chosen to fit a ROB it is generally considered better that in the unfortunate event of the car rolling over it is preferable to be firmly strapped in. A full harness will achieve this with much greater effect then a lap and diagonal arrangement. It is important to note that this ROB will not interfere with the operation of the hood on soft top cars.
Note for TR4A Owners:
Whilst this ROB is appropriate for all TR4 through to TR6 the hood catches on TR4A cars come close to the ROB backstays and may make it difficult to fit a hood stowage cover. For more information please call us on 01823 698 437
This ROB includes:
Rear Hoop
2 Angled Back Stays
Integral Transverse Harness Bar
The TR6 ROB sits entirely on the rear flat horizontal floor above the differential (sometimes called the parcel shelf). The ROB fits under hood frame, allowing it to be raised and lowered, and fits under a hard top. There are 4 fixing positions and each position has provision for 2 M10 mounting screws (sometimes 3). These are secured with nyloc nuts below the floor through a spreader plate positioned below the floor.

This method of fixing is adequate for all applications where the ROB is employed. Should further security be required with mountings onto the chassis, then a full cage should be used.



RevingtonTR supply a full range of Roll Over Bars (ROB) and Full Roll Cages for the TR range. All ROB's allow the hood to be folded and unfolded unless specified otherwise. The following descriptions are used to describe the style of bars in our range.
ROAD BARS have no diagonal brace and have the option of no harness bar (RTR9053-1) or an integral, transverse harness bar.
COMPETITION BARS are supplied with fixed (RTR9053-2 series) or removable (RTR9053-3 series) diagonal brace, and have the option of a transverse harness bar.
Please see below for other ROBs available for your car.
For Hard Top cars TR4-5 please see RTR9148 Series
Our range of Roll Over Protection (ROP's) is extensive, to help you decide what is best for you we have compiled an information sheet in an easy to follow tablature format. Please see
IS0040
here or via the 'Product Data Sheets' tab above.
Accessories, Tools, Services and Safety Equipment
To view the Triumph Catalogue Plates, please pick a car type