CLICK TO VIEW


TRIUMPH PLATES
HARNESS BAR STAND ALONE TR4-6 WITHOUT FERRULES

Price Ex VAT @ 20%
£138.47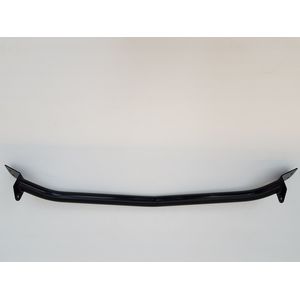 Standalone Harness Bar TR4-6. This bar bolts to the wheel arches and provides anchorage for driver and passenger full harness shoulder straps of the wrap around type. This supplementary transverse harness bar can be used on its own or in conjunction with one of our Roll Over Bar (ROB) kit.
Many owners, whether using their car on the road or the track, will find the use of a harness both comfortable and reassuring. If you have chosen to fit a ROB it is generally considered better that in the unfortunate event of the car rolling over it is preferable to be firmly strapped in. A full harness will achieve this with much greater effect than a lap and diagonal arrangement.
The harness bar has no ferrules fitted to accommodate eye bolts for clip in belts and is intended to accommodate wrap around seat belts. The belts usually self centre but if more positive location is preferred, tywraps can be used to prevent the belts slipping along the bar. This type of belt attachment i.e. wrapping around the bar is becoming the industry standard as it makes belt fitment easy and is cheap. An additional benefit is that the 'clanging' noise associated with the clips rattling in the attachment eyes is a thing of the past.
See Section 9 'SEAT BELTS' for suitable seat belts products of the harness variety.
If a Harness Bar is required fitted with four 7/16"UNF ferrules for fitting harness eye bolts, please order RTR9148HB
Our range of Roll Over Protection (ROP's) is extensive, to help you decide what is best for you we have compiled an information sheet in an easy to follow tablature format. Please see
IS0040
here or via the 'Product Data Sheets' tab above.
Accessories, Tools, Services and Safety Equipment
No catalogue plates are available