1964 Red TR4 comprehensively restored with rally features.
1964 Red TR4 comprehensively restored with rally features.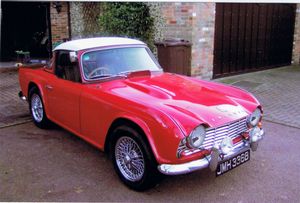 This right hand drive TR4, whilst it has been successfully used as a regularity rally car, can equally be used as a splendid road car.
The car was rebuilt and improved with many modification that make a safe and reliable road car. The initial work was undertaken in the 90's by RevingtonTR to produce a comfortable, reliable, quick, car for tours and regularity rally outings.
The car has been owned by the current owner for over 30 years and has been properly maintained during that time.
The car is currently conservatively valued at £45,000. With that in mind the owner will be happy to discuss any sensible offers.
Please call or email RevingtonTR +44 (0)1823 698 437 info@revingtontr.com in the first instance, when you will be put in touch with the owner to discuss a possible purchase.
The extensive features include: -
Improved Suspension
J type stag overdrive
RevingtonTR logic overdrive control unit.
Aluminium large long range fuel tank,
Two speed heater
Intermittent windscreen wipe facility.
Rebuilt engine
Tow hooks
Spotlights
Antiroll bar,
Underbody protection
Aluminium bonnet
Backlight frame with both hard top and surrey top.
Reverse light
Chrome wheels
Road rally exhaust This means that whilst it is good for gas flow, it is also quiet.
Rally instruments
Fire extinguisher
Tunnel mounted handbrake
Good body work and paintwork.