Revington TRS Le Mans set to compete in Le Mans Classic
Published: 07 Mar 2006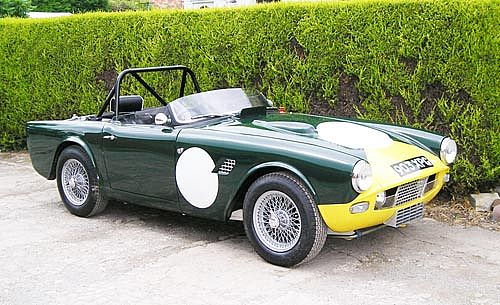 The memory of a Triumph TRS racing in the Le Mans 24-hour endurance event 45 years ago will be re-lived next weekend, when a Revington TRS Le Mans takes part in this year's Le Mans Classic.
Piloted by motoring journalist and experienced racing driver, Tony Dron, the Revington TRS Le Mans will make its racing debut in this event. Having recently tested the car, Dron is looking forward to the challenge:
"It's the first time out in competition for the car and pre-race testing has proved very encouraging. Handling, brakes and reliability all seem well up to the mark and the immaculately prepared Revington TRS Le Mans looks very much the part. The Le Mans circuit, however, is so fast and so different from anything we have at home, we won't be able to tell how competitive the car really is until we get there."
The Revington TRS Le Mans is a recreation of the cars that were built by Standard Triumph's competition department to contest Le Mans in 1960 and 1961. Spawned out of a passion for Triumph TRs and motorsport, after much research and, calling on his supreme technical knowledge, TR specialist Neil Revington brought the TRS back to life in his Somerset workshops.
"I am delighted we are competing in the Le Mans Classic this year." said Revington. "We are just about to go into production with this car and therefore entering this race will assist us with our testing and development programme and provide us with great publicity before its launched in a few months time."
Dron will be driving the first Revington TRS Le Mans to be built, which is now owned by Somerset businessman, Paul Gerring.
The Le Mans Classic takes place on Saturday and Sunday, 8th & 9th July on the full Le Mans 24 hour Circuit 4-hour race held a few weeks ago.
Entries are only accepted for cars of the make and type that raced at Le Mans between 1923 and 1979, a regulation which ensures a truly historic occasion. Lining up for battle will be over 380 cars, which are split into six classes: 1923 - 1939, 1949 - 1956, 1957 - 1961, 1962 - 1965, 1966 - 1971 and 1972 - 1979. Dron and the Revington TRS Le Mans will compete in class four.
Racing commences at 4.00 pm on Saturday and, in true Le Mans tradition, continues until the same time on Sunday. However, because of the age of many of the cars, each of the six classes competes for three, 45min sessions.
To add to the nostalgic nature of the event, drivers will run across the track to their cars to re-live the famous Le Mans start, but in these safety conscious times, this will only be for show and the real racing will commence with a rolling start.
Dron's Revington TRS Le Mans race entry has been made by the TR Register. Sponsors include: Schering Plough Animal Health, Merial Animal Health, Virbac Animal Health, Fort Dodge Animal Health, Janssen Animal Health, MillHouse Ltd, Kruuse , Royal Canin, Performance Plastics and Revington TR.