Mark Hoble Competition Report 2009
Published: 21 Dec 2009 updated: 05 Feb 2019
Some of you may be aware of Mark Hoble having been mentioned in our previous newsletters with regard to Le Mans Classic 2008. For those who are not aware let me give a brief introduction, Mark has been racing a Morgan with a Revington TR built TR4 engine. We met Mark at Le Mans in 2006 as a result of which the Morgan racing engine project was started. Subsequent to that Mark had decided to fulfil a lifelong dream of racing at le Mans and to that end bought an ex-Australian racing TR2, which we were trusted in preparing for Le Mans Classic 2008.
We were pleased to have supported Mark's racing activities again this year, although track side support was provided by our good friend Guy Heath (Loire Valley Classics Racing). Guy's credentials are exemplary, having trained and worked within the Royal Navy and being party to the building of the Revington TRS and Revington Italia. As in all motorsport it's a team effort and I'm pleased to see that Guy has been part of Marks success this year. For a full season report by Mark Hoble continue reading,
Neil Revington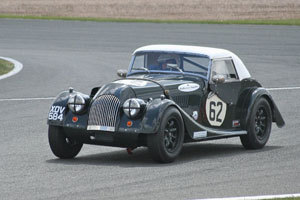 It's been a really good year. Guy Heath's brief was to keep both cars on track and he's done just that. Racing in the HSCC Guards Trophy the Morgan (XOV 584) has done about 13 hours of track time which is more than twice as much as it would do in a season before when I was competing in shorter 20 minute Roadsports races. The highlight was at Spa in September when I shared the car with a friend of mine in a 2 hour race when it ran without missing a beat. The Morgan is probably giving about 30-40 bhp to the Cambridge Motorsport engined cars but does feel very strong and is about the only racing Morgan that doesn't use water! We came second in class and ninth overall in the Guards Trophy which was pleasing for our first year in the championship.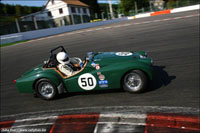 The TR2 (PDU 222) continues to provide great fun. I have been running the car in the Woodcote Trophy which for 2009 included one hour races at the Silverstone Classic, the See Red meeting at Donington and the Six Hours meeting at Spa. For those of you who may not know the Woodcote Trophy is for post war sports racers up to December 1955. As TR2s raced in period they are welcome to mix it with exotic machinery such as the Allard J2X, Aston Martin DB3S, Ferrari 750 Monza and D type. The class structure is based on engine capacity and brake type which puts me up against Fraser Nash Le Mans Replicas and the occasional small capacity Lister or Cooper sports racer. I was joined by Brian Waite this year who campaigned his TR2 for the first time this season.
PDU 222 continues to provide many grins to the pound. Racing against much more expensive machinery always appeals to me and I can't work out why the field isn't flooded with TR2s! The Silverstone Classic and Spa races in particular were fantastic but for different reasons. At Silverstone I passed Stirling Moss under braking into the Abbey chicane which is a moment that will live with me for a long time. The car was really on song that day and I managed to sneak a class award behind the Lister and a Fraser Nash Mille Miglia.
At Spa (always the best meeting of the year) I was running in the middle of the field when I saw a particular DB2 approaching (the car that I drove in the Spa Six Hours in 2005 and Le Mans Classic in 2006). On the assumption that the DB2 was coming through to lap me I gave him a suitable single fingered gesture to pass as we came round La Source only to work out that he wasn't much quicker than me at all. Battle commenced for the rest of the race and we were bumper to bumper as we crossed the line both grinning from ear to ear. It turned out that the DB2 had been called in for a drive-through penalty which put him out of position hence my confusion.
The car has again proved itself very easy to drive. Although it isn't particularly powerful it holds its own in the corners and the drum brakes seem to last much better than on the heavier cars. We race on Dunlop L section tyres which work very well with the TR's suspension set up. These tyres don't have a great deal of grip but the car slides progressively which is handy at the end of races when sliding into the corners to slow down is often more effective than using the brakes.

As mentioned above Guy's support has meant that both the Morgan and the TR2 have been 100% reliable. Maintenance on the TR2 has been relatively straightforward. Hubs and wheel bearings take considerable load on the track so they are replaced as soon as they show any signs of wear. Otherwise it has been a case of making sure that the car has had a thorough spanner check before we get to the circuit. It's a similar story with the Morgan although it seems to like eating dynamos.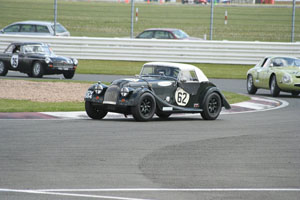 Plans for 2010 are coming together. I have applied to race the TR2 in the Le Mans Classic and all being well will also do a couple of the Woodcote Trophy races. The Morgan will run in the Guards Trophy again.
Do come and say hello if you come to any of the races. Tea and cake provided,
Mark Hoble