Cousins together
Published: 19 Jan 2021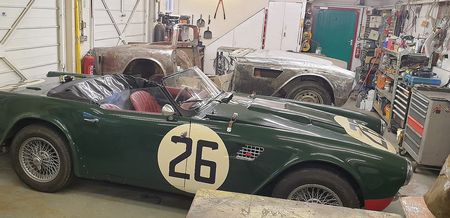 I wonder when, if ever, they last stood together?
Steve Robert's TRS is nestling in Neils workshop alongside the Zooms prototype awaiting its turn in the main Revington workshop to have its suspension attended to along with some other minor jobs.
As the headline suggests, have these two ever stood together?
They would have been at the Triumph works at the same time given that the bodyshell of the Zoom was used to manufacture in fibreglass the outer panels of the TRS, but the TRS would have been constructed in the competition department whilst the Zoom would have resided in the experimental/development engineering area.
So, one to contemplate, have these cousins ever met before?
Answers on a 50 pound note to your favourite charity.