Rally des Alps in 1999
Published: 08 Jun 2021 updated: 10 Dec 2021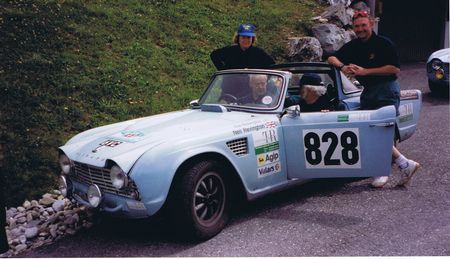 6VC is seen here on the Rally des Alps in 1999 when both 6VC and 3VC took part. The pictures were taken after the rally at the summer home of Jean Jacques Thuner in Villars Switzerland. Jean Jacques was a Swiss driver who along with his Anglo Swiss navigator John Gretener had many successes during their careers especially, from our point of view, in the sister car to 6VC, 5VC. During our visit Jean Jacques took me for a drive in 6VC up the mountain behind the house. A great privilege indeed. During that drive I explained how our Overdrive Logic Device worked and he quickly got used to using it. Later in the drive he leaned over to me and said 'You know, if we had this device when we were rallying these cars, we would have beaten the Porsches'. A great accolade from someone who really knew how to drive.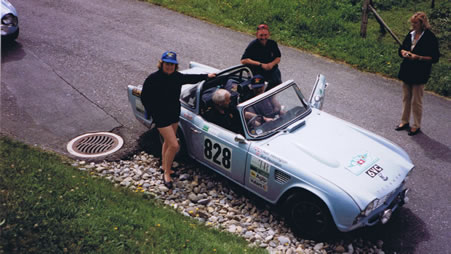 The photos show Sue and I standing by 6VC with Jean Jacques in the driver's seat and John in the navigator's seat.
Our logic device has impressed drivers all over the world for more than 30 years and is still a best seller. The overdrive operation with our device can be so seamless that you really do feel like you have a 7 speed gearbox (assuming overdrive on 2,3,4). At my first outing to the Mdina GP in Malta, a fellow competitor came up to me after my first practice and quietly asked if I had a sequential gearbox in my TR5! Our logic device can even impress onlookers.
To get more information about our logic device and to watch a video of the unit in operation follow
this link
to our web page.