WISHBONE LOWER TR2/4 RHF, LHR EXCHANGE
*
Deposit Required
: A deposit is required for this part. This will be refunded in full or in part on receipt of exchange item, depending on the condition of the part received. Vat at the prevailing rate will be added to the deposit if applicable.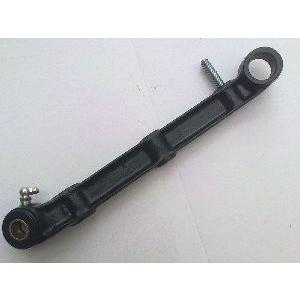 TR2-4 lower wishbones Right Hand front and Left Hand rear refurbished; available on an exchange basis or outright.

Not available new, these lower wishbones have been sleeved to take out any eccentricity at the pivot ends, rebushed with RTR3128 at the trunnion end as necessary, powder coated black and fitted with a new grease nipple. They are therefore ready to use .
When sold these parts have a surcharge applied (£45 in 2014 but please check). If you send us an old unit back that is reconditionable then the surcharge will be refunded. Reconditionable means a straight part with worn or even oval pivot points is acceptable but a part bent double in an accident is not!


Suspension and steering
To view the Triumph Catalogue Plates, please pick a car type