Black TR3A restored and much improved road car £30,000
Black TR3A restored and much improved road car £30,000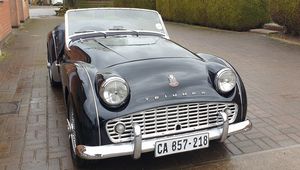 This car has just come out of our workshops after extensive work , but for personal reasons the owner needs to sell the car. We are collecting date at the moment to be able to give full details here. In the meantime please call or email RevingtonTR +44 (0) 1823 698 437 info@revingtontr.com for further information. Test drives can be booked at RevingtonTR.
The car is registered in the UK despite the South African plates.
the car was originally exported to the USA , then imported into South Africa, where we believe the conversion to right hand drive took place.
The car has had in excess of £40,000 spent on it whilst in the UK without having been driven on the road.
The impressive list of new parts includes: -
rebuilt engine
New carburettors
123 ignition distributor
new wiring loom
Aluminium front hubs
New wire wheels and tyres
vented front discs and 4pot calipers
Revington TR rear disc brake conversion