For saleTR6 with many improvements
For saleTR6 with many improvements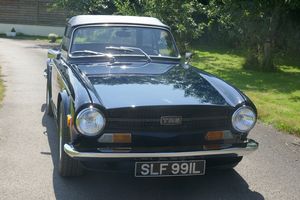 1973 Sapphire Blue Triumph TR6 CP with Power Steering and Overdrive, £24,995.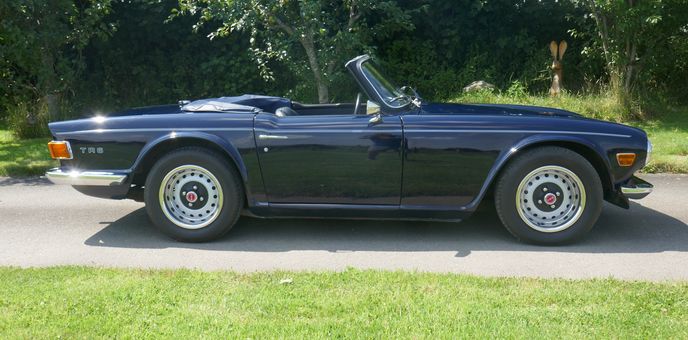 This TR6 runs and drives superbly with a beautifully smooth engine, slick gearbox with overdrive unit and the rare power steering upgrade. The car is garaged and placed on a trickle charger when not in use. Subject to an earlier restoration the bodywork remains in excellent condition with recent new door skins to rectify the only site of corrosion on the bodywork. The interior is unblemished. The car has a soft top cover for when down. Present ownership for the vehicle is 6 years and no expense has been spared on her upkeep during this time.
This TR6 CP model was built in 1972 for the home market as proven by the British Motor Industry Heritage Trust Certificate. There is a large file of paperwork to cover the vehicle's life.
The vehicle comes with the following upgrades:
Replaced fixed fan with adjustable Kenlow
Replaced standard headlights with high power halogens
Replaced steel fuel tank with large aluminium tank
Replaced Bosch fuel pump with Revington outboard kit
Replaced lighting, wiper controls with Revington Column set
Installed logic control overdrive switchgear
Installed Sports exhaust and manifold
Installed relays on all heavy current circuits
Installed bluetooth/phone compatible radio/CD
Installed Power Assisted Steering system
Installed hazard flasher system
Installed secondary hood (bonnet) release
Installed improved sound installation
Engine balanced by Ivor Searle
Running on Evans waterless coolant
Bumpers recently re-chromed
Two sets of keys will be supplied
The Car car is winter stored and has had little recent use as the owner has been working abroad.
Please contact Neil Revington at RevingtonTR in the first instance
neil@revingtontr.com
01823 698 437