AVD Histo Monte 2000
Published: 01 Sep 2000 updated: 18 Dec 2020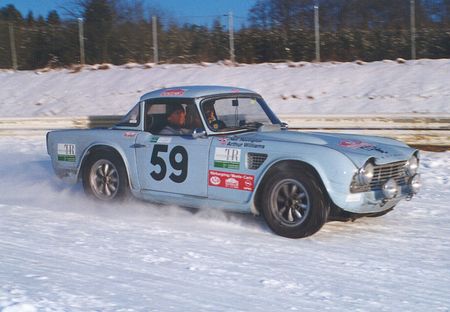 AVD Histo Monte 2000 RALLY REPORT
27th JANUARY 2000 TO 2nd FEBRUARY 2000
After 6 days intense rallying much of which was on snow and ice Neil Revington and Arthur WIlliams arrived in Monte-Carlo in second place overall, first in class and were proud to receive a huge trophy from the president of L'automobile Club de Monaco for the highest placed international team.
The AVD Histo Monte is an International Road Rally following the traditional Monte Carlo formula with fast road sections, regularity road sections and closed road special stages.

Winter rallies have their own special feel. Your first feeling when you get up at 2.30 in the morning, remove carefully prepared car from the garage and set off for the ferry in freezing fog, is "why am I doing this?"

The drive to Dover was a nightmare in itself the fog never let up and as I had booked a crossing on the hovercraft (which has a reputation of an extremely uncomfortable crossing), the feeling of trepidation continued until seated on the craft exhausted, and we set off for, thankfully a smooth 'flight'.

My Co-driver and fellow TR owner, Arthur Williams, lives in Boppard in Germany, where I arrived mid afternoon. Time for a wash, sort out tables and have a meal.

Thursday: Scrutineering for the rally took place in the outer paddock at the Nurburgring which passed uneventfully.

Later that evening the first stages of the rally were tackled. These were closed road tests on the long circuit of the ring which was mostly covered in snow and ice. There were two tests following the same format. The first had three timing points, the first at 24.5km, the second another 90m and the third another 110m. The organisers had arranged for the distance between the lines to be such that the times you had to achieve meant you couldn't slow to cross the line just on the second, as you would miss the next line and so on. The second test followed the same format but at higher speed.

We did well but so did everyone else!

Friday: Another Nurburgring test, a regularity this time exiting at Marshall post 188. The exit lane was up a snow covered hill with the timing Marshall at the top! The next stage GP4 at Reifferschield had its regularity speed down graded to 44Kph from 48. This section had been checked by the ice spy who lead the rally to report on conditions, he decided it too dangerous at 48Kph. We knew why when we tackled this very steep down hill section on snow and ice. Panic ensued in the cockpit as we didn't have speed tables for 44kph!

Lunch followed at Marksburg and then an overnight stop in Mainz. Arthur had been complaining that he was sitting 'on top' of the bucket seat on the Co-drivers side rather than in it. Arthur is a big chap and so we arranged for a similar bucket seat from his Spitfire be brought to Mainz by his son. Sacha speedily bolted it in place in the hotel car park. Arthur reported the following morning that the transformation was of Austin 7 to Rolls Royce proportions!

Saturday: CP11 and 12 were at the Hockenheimring, four laps. The first was to establish a lap time/average speed you were happy with, then do a second identical, then one more 5% faster and one further 10% faster and hopefully to cross the line on the second. There was an upper limit of 70Kph average. Not wishing to pussy foot around we set a nice high first average. By the fourth lamp we were over taking everything in sight. I got one of those cold feelings- have we dropped a gooly here? Are we now doing more than 70Kph having upped our speed twice? Driver asks Co to work it out. Co too busy ensuring we pass the line at the desired time. Later we have time to work it out and find we ended up doing 66Kph. Panic over.

The evening end control in Pirmasens was a pure spectacle. The fire works were a match for any Y2K celebrations. Even the cold, rain and wind couldn't dampen the spectacle.

This rally had two parts. A weekend event and a 'full Monte'. It was here in Pirmasens that we said goodbye to those competitors only doing the first part, as we set off for Freiburg.

On our way to GP13, Col de Goetzenburg, we were stopped by police who told us the road was closed. We couldn't see how it could be as the ice spy must have been through, however much we argued he wasn't going to let us through. More panic to find an alternative route and arrive at the control in time. Things were hotting up now. CP13 was little more than a dirt track with icy water filling pot holes as big as the TR4! This proved to be flat out to average anything like the speed required. Driver asks Co. for a time. Co. reports he can't even see the trip master on the dash let alone look at the tables! At the speed we were doing at least we only touched 50% of the pot holes. By now we were beginning to crawl up the leader board, as the host of zero penalties earlier on become irrelevant with stages like GP13.

Sunday: Freiburg to Lyon. The weather now was wet and windy, with thawing snow, ice, deep puddles and packed snow at the sides of the road. It was on our way to Lyon our rally nearly came to an end. On one left hander I turned the wheel on what seemed like a wet road, wrong, it was sheet ice. Off we went into the snow bank where sufficient grip was found to drive out again. Around the corner were two Porsches, who had been there before us, one having rearranged his rear wing. We were probably not the last.

Monday: Blue sky, sunshine. Beginning to feel all worth it now. So far our road penalties had been zero and with good regularity and special tests we were now knocking on the door of the top ten. Too good to last, we took a wrong turn in haste, just before a control and lost two minutes. I was not impressed thinking all was lost as our total penalties at that time were less than one minute. A quick look at the regulations revealed that one minutes lateness only cost a few seconds penalty. Another panic over.

Later in the afternoon we stopped for petrol, all going well. Attempt to restart car, what, no battery, surely not- its German and my brother flogged it to me! All attempts to find a fault failed so we push started the car and finished the day without switching off just in case. We bought another battery and all seemed well again.

The French lorry drivers decided to make our rally a little more interesting by closing the motorway we were to use to get into Lyon. Ever tried finding a hotel underground in the middle of Lyon without directions? I don't recommend it! But wait what is this? there is a god. He drives an Espas, is called Pierre and has a TR3 in his garage at home and like a guardian angel leads us to the temple. (The Meridian Hotel actually). Pierre deserved a drink so did we.

During the evening the rally director advises that due to the French lorry drivers action all motorways are likely to be closed in the morning so the first time control is cancelled. We have to find our own way to the second control, a couple of hundred kilometres away at St. Jean-en-Royans.

Arthur and I have now slipped into the top ten so we are keen to leave with plenty of time to avoid possible delays. I don't like early mornings at the best of times but 4.30 seemed a little excessive. Wrong. Getting out of Lyon was a nightmare. We headed west out of the city on the original route, the traffic even at 5.30 was incredible. We soon found ourselves needing to cross the motorway but were faced with half the worlds lorries blocking the roads. Turn around, do not pass go, do not collect £200.00, try another route. When we finally cleared all motorway crossings the road is STILL hopeless as Mr General Public and his dog plus all the lorries not joining in the fun are on our road. Driving at unmentionable speeds we arrived only just in time at the control. Many didn't.

This next was to be our stage, GP24. When travelling in France in the mountains you see large signs on the foot hills saying Col de... ... ferme, Col de... ... ferme, Col de ... ... overt. A quick check on our route card confirmed the Cols we were using were the closed ones! GP24 was one such Col. The snow was mostly 20cm to 30cm deep, and if missing revealing sheet ice. We passed 2 red Porsches in the ditch, then an Audi Quartro being extracted from a snow drift by the AVD. Then what's this? the Mercedes leading our class in sight! We catch and pass him on the snow, we are 15 second late so he is 75 seconds late as he started one minute ahead of us. He was 1st in our class and ahead of us in the general classification- but not now !

Then via GP25 Chabestand we lunched at Sisteron, sitting outside a Bistro in the warm sun. On to GP26, 27 and the last of the day GP28 just getting dark and 'Oh no' red light on, no charge. Was the battery not at fault after all? ('course not it was German') but I had used my best French to convince a garage proprietor to dispose of it for me. I hope he tested it!

What to do? Turn of lights and carry on. Arthur not impressed with this tactic, 'but it is a mountain road and we can see the other side of the valley for oncoming traffic' I say. Arthur still not impressed.

At the end of the stage, we waited for the Mercedes behind us to come by and tuck in 5mm from his bumper until the last control of the day on side light only.

Ever heard the expression 'Prince of Darkness' well known in America to describe the usefulness (or not) of Lucas electric's. A reference to Lucas's promotional slogan 'king of the road'. Anyone who has been plunged into darkness, or been stranded by the side of the road with dead Lucas electric's will sympathise.

At that nights final control we change the dynamo for my spare. Bingo charge, lights, the lot brilliant. Off we go to Monte Carlo. 20km later, oh dear, red light on again. Can you believe it? My spare dynamo is fitted with the correct pulley and checked before leaving home. That was then and this is now. It might of worked at home but it certainly doesn't now!

At the hotel the underground car park is teaming with poor souls such as us nailing their cars back together. There seems now to be a lot of body damage too. Opel sponsor this rally and brought out Heidi Hetzlers 1984 Manta with Heidi driving, along with an Ascona A ex Walter Rohl rally car and a Kadett C Rally car from their museum. All had slight damage, oops!.

We are unable to arrange for any combination of regulators and dynamos to extinguish the red light, so we elect to go out for the final loop tomorrow with a fully charged battery and a spare in the boot borrowed from the AVD. When we finally surfaced in the hotel lobby we are congratulated by fellow competitors for having elevated ourselves to 2nd overall and 1st in class. Time for another beer.

Wednesday: Last day of the rally. The famous loop consisting of Col de Turini and Col de la Madonne. Arthur and I agree not to do any thing stupid as the leading car, an Opel Rally Kadett is 20 seconds ahead. (unlikely to loose this margin) but more importantly the third placed Mercedes is only 2 seconds behind us. Col de Turini is incredible. In places it is impossible to keep to an average of 50Kph and as this was a regularly section and all controls were secret on this rally it was important to attempt to keep to time consistently.

We return to Monte Carlo for the final podium control with a champagne reception. This is the nail biting bit, we had been steady during the day but not over impressive. Number 3 Mercedes comes in (a veteran of 8 real Monte Carlos) with a seriously damaged front end but assures on lookers that he wasn't held up. More nail biting, has he popped into 2nd place? We will have to wait unit the Gala dinner to find out.

The Mercedes had a worse day than we did and slipped 1 second so we kept 2nd overall place. Amusingly we were presented with a huge trophy (soup bowl described by some) by the President of L'automobile Club de Monaco for being the highest placed international crew. The pot was so big that it rather shamed the pot's the winners were brandishing.

The prince of darkness still had a few tricks up his sleeve. We returned to Boppard in the company of our team mates Hans and Isabelle with their TR4. We managed to get battery swaps down to 20 seconds (my dynamo still not charging). Once in Boppard Arthur kindly let me remove the dynamo and regulator from his spitfire and fit them to my TR4. Yes charging again. Fond farewells and set off back to Somerset. I know, too good to be true isn't it. 10km later, red light on but this time associated with not water smell. The Spitfire dynamo had decided this was a good time for the pulley to snap in half. Luckily I have two just like it in the boot on knackered dynamos!

The rest of the journey was conducted with a huge smile on my face( once I was confident I wasn't going to see a red light again) remembering all the snow and ice, miles of beautiful scenery unfolding in front of us and the thought that perhaps Arthur and I should do the AVD Histo Monte next year. We only have to achieve one placing better. If only it were that easy!

NEIL REVINGTON.

Click here
for the full story and photographs in its original form our old website.