Tour of Dordogne 2001
Published: 01 Sep 2001 updated: 22 Dec 2020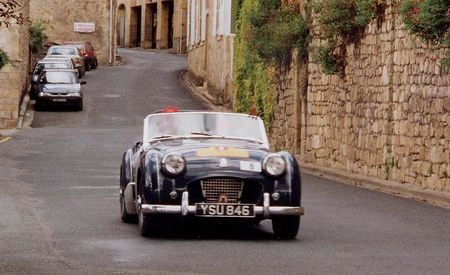 This Rally, held between 15 and 22nd of September 2001 follows the familiar format and is run by the organisers, of the Irish Ferries Rally.
Revington TR have been closely involved with these Rallies over the past 8 years preparing many competing cars where reliability is of paramount importance.
This year Penny Short and Sue Revington took part in the Irish event and so 'the boys' Husbands Matthew and Neil decided on an event to do themselves to do in September. Unfortunately are chosen event was cancelled, however we were fortunate enough to be offered a place on the Dordogne, conveniently running at the same time, by event organiser Mike Nixon.
Although Matt and I have competed together in Hillclimbs and sprints for years we had never rallied together before. We agreed that for this event we would use Matt's TR3, which he would drive and I would navigate.
Scrutineering at Manoir de Grand Vinoble, just north of Bergerac proved uneventful. The calibration loop on the other hand identified the need for careful checking of organiser's distance before each event. We had brought with us papers Sue and Penny had used the previous year, which showed the calibration loop to be 13.73 Km long. This year the same loop had grown to 13.75 Km according to the same organisers, proving that even the same organisers can introduce small differences in their distance measurement, which can make a significant time difference over longer distances.
The event is a pleasant mix of fine rallying during a (long) morning followed by a gastronomic delight, a great combination. All hotels are to a very high standard making for an enjoyable weeks rallying.
Day one
took us around a loop of the Bergerac area, returning for the Manoir for the evening. We were lucky enough to win the day with 7 seconds penalty over 5 stages. This meant we had to wear the red hats on day two.
Day two
travelling north now to the historic town of Domme. We managed to make some mistakes today including travelling for some time on the wrong minute! Unfortunately once we had discovered our error and despite fierce driving by Matt, the control came too soon to recover and we gained 31 seconds penalty on this control alone. A bad day resulting in us dropping to second place overall.
Day three
wandered through the picturesque towns of the Lot region. A better day today; second on the day to Anthony and Julia Cohen (XK150) who took day prize yesterday as well leaving us still biting at there heals for first overall. After today's run we had a superb riverside picnic followed by a visit to Chateau Milands, one time home to Josephine Baker (you need to be over 50 to know who she was!).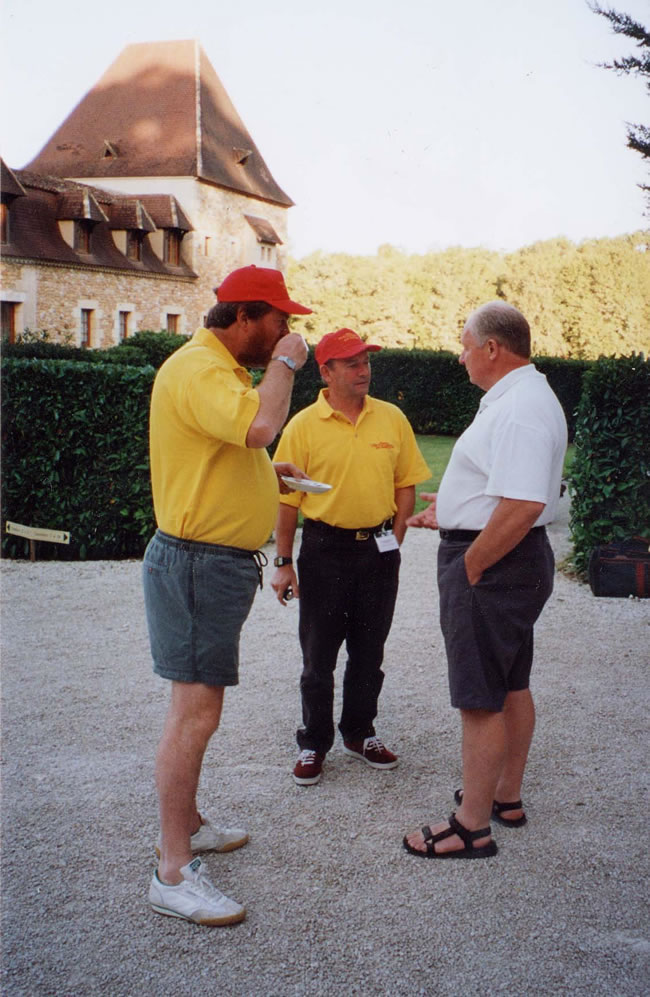 Day four
started from Hautefort and travelled north through the Corezze and Limousin regions. An even better day for us today with just six points on the day, we won the day but are still second to the Cohen's with just 20 points in it, third place being held by Robert and Lauri Frost (E type) only nine points behind. Hot stuff at top! The day to day was rounded off by a visit to Val de Vienne race circuit for a chance to exercise the TR3. Most competitors took the opportunity to experience the red mist and brake fade.
Day five
we now have two hats to wear, so we do!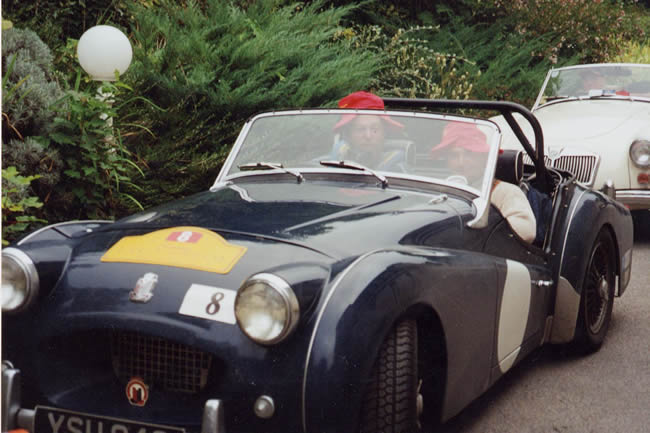 But this day will be are undoing. Half way through the day's instructions we encounter an ambiguous instruction. Half the rally do one thing; half another. We make the wrong choice; get a maximum (300) and are demoted to 8th. Oh well, Lady Luck has to be with you to do well on these events, she abandoned us at this point. Day six final day. We are now heading to the final control through the Loire Valley, one of my favorite areas of France. We are again second on the day but only one crew above us on the leader board has had a bad day so we finish 7th overall and 3rd in class.

Congratulations to Anthony and Julia Cohen in their XK who won overall. We calculated that even without our woopsy we would not of won, so this was a creditable victory for them with 107 points for the week.

Robert and Lauri Frost came second with 158 points, we accrued 427.

Congratulations to the other TR crews Peter and Esme Hacket in their TR5 came 3rd in class 2 and Brian and Jacky Pyle (TR3) took the spirit of the Rally award for having turned up with no concept of what to do, quickly learned and by day six were getting credible scores.

Thanks to Mike Nixon and Carol Corp for an excellent event. Phone them if you like the sound of it on: +44(0)118 988 5206
This Photo proves the point that you should never leave your rally car alone when other rallyists are about. We thought the TR3 was quite safe in this chateau car park until we returned from our visit to find it had been decorated!