New workshop now open at RevingtonTR
Published: 01 Mar 2002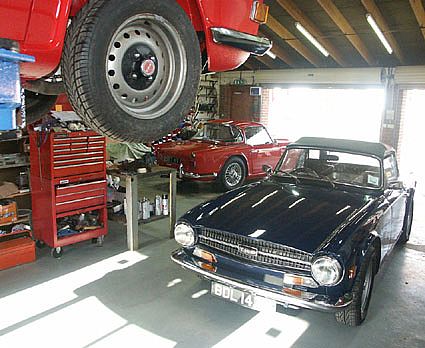 The new Building project at Home Farm, Revington TR's base, is now complete. This new workshop facility now provides space for 2 additional lifts and a permanent home for our rolling road dynamometer.
After months of delays caused by bizarre building regulations we finally have the use of our new workshop and stores.
We are now in a position to offer advanced facilities at Revington TR to broaden the wide spectrum our customers have come to enjoy.
We welcome our most recent staff addition in the shape of our young university graduate Rob. Under the watchfull eye of Carl Kiddell, Rob is currently re-educating himself to understand the (lack of) complexity of our older vehicles. With his university background we anticipate our most recent staff addition to become a valuable member of the team bringing expertise in engine management which is becoming increasingly important at Revington TR as we fit more and more electronic fuel injection kits.