Revington TR Re-lives a Classic Moment in Time
Published: 24 Jan 2006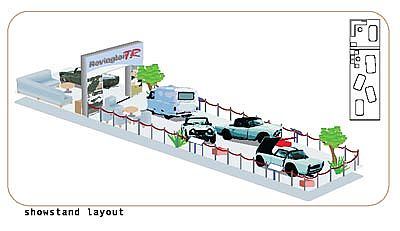 Visit Revington TR at the International Historic Motorsport Show 24th-26th Feb. 2006 at Stoneleigh Park, Coventry. For details visit please
click here.
You will not miss our stand; Revington TR are providing the Rally Feature stand displaying a recreation of a period service /repair halt along the route of one of the world famous rallies of the day, the Liège-Sofia-Liège.
44 years ago, in August 1962, the works Standard Triumph team contested the Liège-Sofia-Liège Rally with three powder blue TR4s. The arduous nature of the event meant that teams had to make regular service halts, some of them un-scheduled and make-shift affairs at the side of the road.
One such occasion was half way through the event in the Dolomites and the scene depicted at the International Historic Motorsport Show is a snapshot of this ad-hoc maintenance stop.
Of the four Works TR4s registered 3VC, 4VC 5VC and 6VC, three have survived to tell the tale and have been tracked-down and gathered together by Revington TR especially for the show. The feature display scene also includes a venerable Atlas van, as used by Standard Triumph's Competition department as the service barge of the day.
The highly successful 4 car TR4 team competed, usually in a team of 3 cars for three seasons, from 1962 to 1964 The cars were variously crewed by: John Sprinzel, Graham Robson, Mike Sutcliffe, Roy Fiddler, Jean-Jacques Thuner, John Gretener, Willy Cave, Tommy Wisdom, Jeff Uren, Vic Elford, David Stone, Don Barrow, Roger Clark, Brian Culcheth, Don GrimShaw, Roy Dixon, Bert Rasmussen, Paul Coombe, Gordon Jennings and Ed Homsey.
This list would not be complete without mentioning Ray Henderson, Workshop foremen and Chief Mechanic.
In early 1964, Triumph converted 3VC, 5VC and 6VC to left-hand-drive and then in February shipped the cars to North America to contest the Canadian Shell 4000 Rally in April of that year. Those three cars were then sold in North America and after several years of searching 3VC and 6VC were recovered and brought back to Britain.
4VC was sold to Gordon Birtwistle, a Triumph employee. In 1969 its current owner, Ian Cornish, acquired the car, unaware at the time of its illustrious history - and once he found out he vowed never to sell it.
4VC was the first to be restored by Revington TR. 6VC followed and then shortly afterwards 3VC was returned to its former glory. 3VC is now owned by a trust of five people, taking it in turns to use the car, whilst 6VC is owned by Neil Revington outright. Both 3VC and 6VC are still regularly seen competing in rallies, sprints, and even races, usually driven with great gusto as befits their pedigree and history.
3VC was most recently seen on the Rally of the Tests in November, when Tony Sheach, one of the trustees, finished an excellent second in class.
Life for 4VC is a little less hectic, but even so, the ex-works TR4 is regularly driven on the roads today.
All three surviving works TR4s are now maintained by Revington TR at its Somerset workshops, where the company looks after a host of other TRs for their ever expanding list of customers.
Alongside the feature display Revington TR is proudly showing its TRS le Mans, an aluminum-bodied recreation of the car that was developed to compete in the 24 hours le Mans race, in 1960 and 1961. Developed over the last few years, the Revington TRS le Mans goes on sale in the spring of this year.
For further details please contact Neil at Revington TR: +44(0) 1823 698437