Triumph against Adversity - 2008 Sprint and Hillclimb Championship Report
Published: 08 Jun 2009 updated: 05 Feb 2019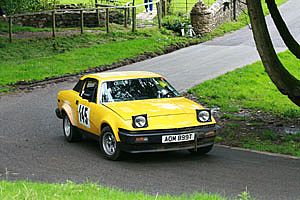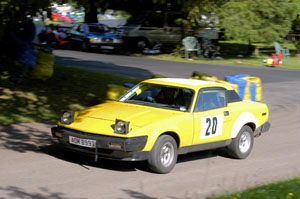 Jonathan Boyse taking part in Mamhead Hillclimb
For many years now I have had to suffer the endless ranting of both, the armchair critic and the seasoned campaigner (who should know better) that you will not win anything in a TR7. The other equally as tedious is the repeated question, is it a V8? And the drain of interest when the answer comes back to the negative.
Well, here is the story of my first season in the Revington TR Hillclimb and Sprint Championship, driving a TR7 Rally car. For those of you that don't know, Leyland cars campaigned the TR7 in British and International rallies between 1975 and 1977. The car utilised the 16 valve engine which powered the very desirable Dolomite Sprint, which many years before the likes of Subaru, provided a performance 4 door family saloon with very few rivals. This engine produced 127 BHP in standard form, utilising twin SU carburettors and with a rev limit of 5250 rpm. My engine was originally built by a non Triumph specialist, who's machining was excellent, but assembly skills are best not mentioned. This is where Revington TR came to the rescue, re-building the engine to, which will come as no surprise to anyone who has met Neil, an exacting standard which, touch wood, has proved fantastically reliable during a shakedown first season that has tested it to the limit, often revving well past 7000.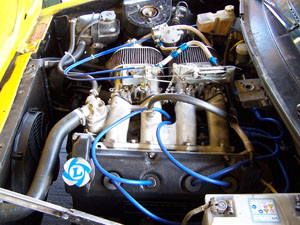 16V Sprint Engine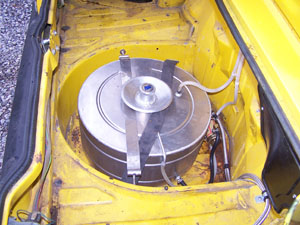 Boot Mounted Ally Petrol Tank
Other works to the car by Revington TR include, 4 pot callipers, rear suspension superpro bushes, replacement propshaft with Hardy Spicer type joints and endless advice. Works by myself include stripping out the interior, plating the sunroof aperture, fitting a full roll cage, removing the metal bumper sections, fitting fibreglass boot lid, boot mounted ally tank, electric fuel pump, twin 45 Dellorto's with Moss manifold, full stainless competition manifold and 2 ½" stainless exhaust system, rear 200lb Powercoil springs, front 200lb spurious springs, front progressive shock absorbers, rear spax adjustable shock absorbers, eccentric ball bearing strut tops, Limited slip Differential, Minilite 7x13 wheels with 205/60/13 AO48 Yokohama tyres and loads more I can't really think of!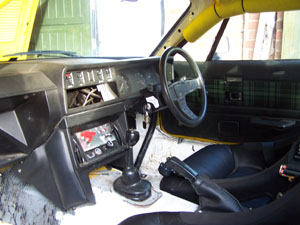 Stripped down Interior
The original plan was just to make a rally replica, but when I discovered the Revington TR series provided an opportunity to use it in anger it was too good to miss! Before I turned to Neil I suffered some terrible standards of work, ridiculous timescales and dodgy parts etc which means the car took about 4 years to be 'ready to go'. I have learnt to either do it myself or send it to Neil! In the next year I also hope to paint the car in original works colours, (white with blue and red trim below the swage line and on the bonnet).
So, to the season, and a start at Gurston Down. There were a good number of competitors, some regulars and some newbies like myself, who were just happy to sign on, pass scrutineering and complete the event with no embarrassing moments. I was in fact dreadfully slow, but it was important too get ones first event under the belt without mishap. One thing I did learn was that the Yokohama tyres were legal in class 2b, so the then fitted Falkens were binned and the cheque book took another hammering. Anybody who tries the Yoko's will feel an immediate affect, the car feels much more direct, the grip levels on dry roads is superb.
So events came and went with a gradual improvement in results until Werrington. I immediately fancied the event and set off on my first practice with enthusiasm, but soon felt something wrong in the steering department and after 'flying' over the cattle grid I had no steering at all and was much relieved to grind to a halt inches from the bales guarding the outside of the 90º left. After being recovered to the courtyard, halfway along the course, by some very helpful Marshals, it was discovered that an engine mount had sheared, causing the engine to drop onto the steering knuckle joint. The organisers allowed me to recover the vehicle at lunch, and with no chance of a speedy repair it was back on the trailer and home for tea. I somehow new that this lost opportunity would cost me the opportunity of beating Roger to second in the Championship, not only did he get the 10 points on the day, but his dedication to entering events and Rob's dominance meant that I would have needed to beat him on every occasion we were up against each other.
Still, having finished behind Roger three times including this non-start, after this I beat him seven times on the trot. The next event was the first of these, and my first 10 points win at Llandow (Boucles-de-Spa?) which was also my first sprint event. The conditions were horrendous, the circuit covered with rain and standing water on many of the corners. I also had another incident, this time spinning on the fourth run trying to beat the time set by a Bristol member in an Escort. He faired worse breaking his gearbox, so I took his car on my trailer and let him drive my car back to his place. Now they say one good turn deserves another, and as soon as he got out he asked why the back end was set so hard. After much face pulling and puzzlement I discovered the spax were wound up way too far and dropped them back to a very soft setting, maybe this explained the spin? However I did manage to spin again at Castle Combe in the wet in the last event of the season, but this time I am sure I changed down and locked the diff. Another improvement after Llandow was getting the carbs set up properly. This improved the flywheel BHP from 163 to 190! Sounds extreme, but as usual the previous lack of power was partly down to something simple, the throttle wasn't opening fully, so after a bit of rod bending and pedal adjustment we were off!
I think Longleat was next and this was for me one of my two favourite events with Colerne, the setting is stunning and I remember watching heroes like Tony Pond rally there (most old enough will remember the tree he hit there in a Rover!). This was the first event where I felt I was driving the car anywhere near its potential, and, to my delight, I was able to edge out Neil on the timesheet. Plus the last straight after the hairpin was very green under the trees and the car was never pointing in a straight line on full throttle through 2nd and 3rd gear!
So, with new found power and improved suspension set up it was off back to Gurston. This was also the first time I had been to a venue before and I was delighted to beat the class bogey by 0.42 seconds. Brilliant! However due to Rob breaking it by even more the points for my effort weren't going to be enough.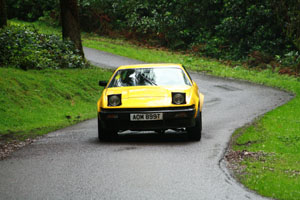 Jonathan Boyse Taking Part in Wiscombe Hillclimb 2008
Since then I picked up 1st place at Colerne, another sprint, and finished 9th from 21 in A3 class beating a lot of similar cars, modern cars, and was only beaten by cars with 4wd, turbos, superchargers, or a combination of such modern trickery. First place in the wet at Wiscombe where I had the car sideways in both directions on my fastest run, which was very exciting, and was competing with some great 70's rally icons including a Chevette HS and a Lotus Sunbeam. We went back there the week after and with a stronger field and probably a below par performance adjusting to my new front suspension set up which on occasion caused me to try turn in too early I finished fourth, annoyingly this time been pipped for third and a trophy by Neil. I was pleased however to beat Steve Small in his TR7 sprint race car, which is more powerful and much lighter than my car, it just shows what suspension is all about, as proven by the much faster times his set up produced at Castle Combe! Castle Combe was the last event of the season with the 1, 2, 3 Championship positions already decided, so just a good fun day then. Practice was very wet and lots of cars were taking to the grass, much chuntering about just taking it easy as practice took forever. So, with this in mind, off I went, literally! Over ambitious into the first chicane I can only think I tried to change down early causing the back end to lock up and the result; a 900 degree spin finishing backwards through the tyre wall, a tow back to the pits with the back box on the truck and a disintegrated rear bumper! Still, being checked out by the ambulance lady was the highlight of the season! I actually enjoyed fixing everything up in the rain, with various help from all the TR drivers and raiding Robs' parts bin, it reminded me of the good old days rallying. Back out for the first timed run, things had dried out, but I still used it as practice, this would be my first lap of the circuit. Timed run two was to be my opportunity to set a competitive time, I had a scorching lap but the eventful day continued as I caught up with the Morgan that had set of 20 seconds before me with all the other TR drivers watching! So, no time, but Triumph 1 Morgan 0!
In conclusion I would like to thank all the other competitors for their friendship and help during the season, Neil for all his help, and all the organising clubs and their members and particularly the Marshals for a very expensive, but enjoyable first season. Special thanks must go to Roger for organising everything, Arthur for being Arthur (and beating my first run up Wiscombe with a puncture!), and all the other competitors for making it such a good year.
So in the end I finished a very pleasing 3rd in the championship, and for those that suggested I was wasting my time with the sprint engine, it finished ahead of all the V8's. My theory that the car could win the championship also was pretty right, only another new boy, with much more competition experience and a very good car prevented me winning, congratulations to Rob who has become a firm friend. I do not know how many events I can enter next year, but I hope to continue developing the car and honing my skills sufficiently to do it justice, this car is capable of a lot more. So go on, have a go!
Jonathan Boyes