Revington TR Trip to New Zealand
Published: 09 Jun 2009 updated: 05 Feb 2019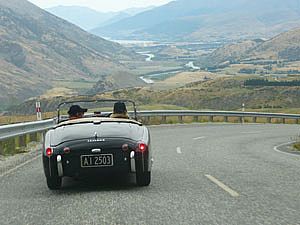 Click here to see a photo gallery of the New Zealand trip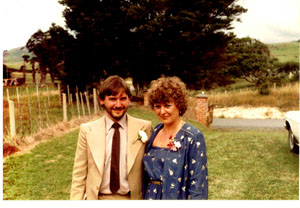 Sue and I, in NZ 1979
It was nearly 30 years ago that Sue and I visited New Zealand for the first (and last) time,
when I was best man at a friends wedding north of Auckland. We had been promising to return all of those intervening years but it took an invitation from TR Register New Zealand to eventually make it happen. We decided that we would make it into a family venture as both Marcus and Natalie, our two children, work in our business Revington TR.
Once we landed in Auckland on the morning of the 5th of February it didn't take long to get into TR mode, as we had been invited to stay that evening with the New Zealand TR Register president Robert Johnston and Stella. During an evening barbeque we had a chance to meet some of the Auckland TR crowd and Robert was able to enlighten us to how the TR Register worked in New Zealand.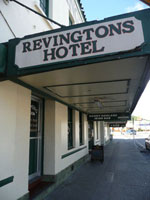 The Revingtons Hotel
After a few days exploring the North Island we took the ferry to the South Island. On our West Coast trip to Cromwell we had the pleasure of staying with Terry and Helen Byrne in Nelson and further south a night in the Revingtons Hotel, in Greymouth. It was a bit shabby but had to be done!
Having Breakfast with the NZ TR Register group
The NZ Nationals are quite different to the TR Register International in England and it is easy to see how the format of their nationals suits the numbers attending and the countryside they have the pleasure of living in. As there are around 60 cars attending, everyone stays in the same Hotel and the whole event revolves around a meeting room, where talks are given with communal breakfasts and evening meals. On each of the 3 national weekend days, Friday, Saturday and Sunday touring runs were organised to take advantage of the beautiful surrounding countryside. In the UK these just simply couldn't work as there are usually well over a thousand cars attending. The area around Malvern where the internationals are held just couldn't accommodate this and our congested roads don't lend themselves to a pleasurable tour. By contrast this is an ideal format for New Zealand. It was convenient for us that there were 4 or 5 attendees who didn't have passengers; this gave us the opportunity to do the runs in a TR rather than a hire car, which we really appreciated.
For the more formal part of the weekend we were asked and were honoured to do a presentation. The purpose of which was to summarise the history of Revington TR, what the company offers as well as our views on the TR and classic car movement in general. Having spoken to many attendees after the presentation it was interesting how even with the good communication we have around the globe these days, how the perception of Revington TR and the TR movement differs between New Zealand and the UK. In the UK because there are so many TR specialists it is easy to assume that parts are easily available, whereas in NZ with a very much smaller population it is not possible to support such an expansive infrastructure. As a result we got the impression that the New Zealand TR owner was more likely to 'make do and mend'. It was useful to have the opportunity to make the NZ members aware of what parts, both standard and modified, are available from the UK. As a result of discussions later on in our tour with David Mehrtens of Mehrtens Kwik-Fit in Dunedin, we are pleased to announce that Mehrtens have been appointed as distributors of Revington TR parts in New Zealand.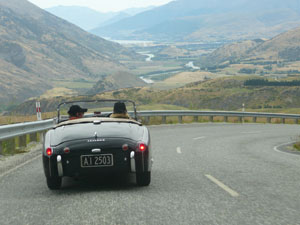 Marcus sharing a ride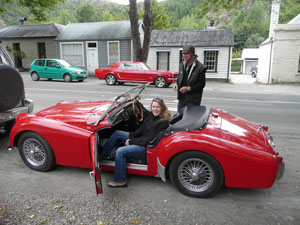 Natalie Sharing a ride
The Deep South Tour after the nationals was another highlight of our trip and thanks to the organising team for showing us parts of New Zealand we may of otherwise never have come across. This tour started the day the nationals finished and took us down into what is known as the deep south of New Zealand, exploring some beautiful countryside, finishing 5 days later in Dunedin. One particular highlight was our visit to Milford Sound in Fjordland, one of the most staggeringly beautiful, untouched parts of the world; this included an encounter with dozens of waterfalls one of which, Stirling Falls, plummets 100m into the sea. At the end of the Deep South Tour we spent a few days in Dunedin and then all too soon 3 weeks had passed and it was time to go back up to Christchurch for the plane home. We all had a wonderful time in New Zealand, made all the more enjoyable by the friendship and hospitality offered to us by the members of the TR Register,
Neil Revington
Click here to see a photo gallery of the New Zealand trip