TR Register Liège-Brescia-Liège 2019
Published: 06 Aug 2018 updated: 11 Mar 2019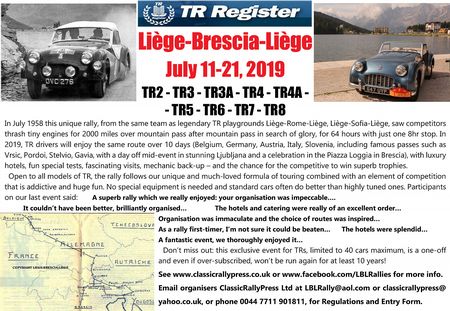 This is an event that many of you might find interesting. We have reposted this due to the interest shown. If you are interested please contact the organisers directly.
Dear Friends,
With tyres, brakes and engines still warm from Liege-Brescia-Liege 2018, it's already time to look ahead to next July when it's the turn of Triumph TRs to drive the amazing, original 1958 route from Belgium to the Dolomites, to Ljubljana in Slovenia, back to the Dolomites taking in its finest passes like Pordoi, Stelvio and Gavia to Brescia, then back over Gavia and Stelvio the opposite way, and over the delightful Passo Pennes, back through Austria and Germany to Belgium again. Stunning scenery, wonderful driving roads, fascinating museums and castles, great hotels - the TR Register Liège-Brescia-Liège 2019 beckons!
Entries already include several factory-prepared Triumph rally cars from the 1950s and 1960s, and cars from as far afield as Brazil and USA. There's plenty of room for more, so join up now! As well as Triumph TRs (from TR2 to TR8), TR-engined Morgan Plus 4s and similar cars are welcome - we already have one Triumph Stag, a car known to some enthusiasts as the TR9...
If you're interested in joining us for Liege-Brescia-Liege 2019, take a look a the newsletter and contact us now for the Regulations and Entry Form. Read the latest news here:-
If you're already on the entry list, we look forward to seeing you in Liege next year - if you're not, we look forward to hearing from you very soon!
Kind regards
Malcolm McKay
Managing Director, ClassicRallyPress Ltd
9 Sycamore Leys, Steeple Claydon MK18 2RH, UK
Tel 0044 7711 901811 www.classicrallypress.co.uk