Another Success For Paolo in his TR2 at Monte Carlo
Published: 16 Feb 2018 updated: 21 Feb 2018
TR2 success at
21st Rallye Monte-Carlo Historique
2018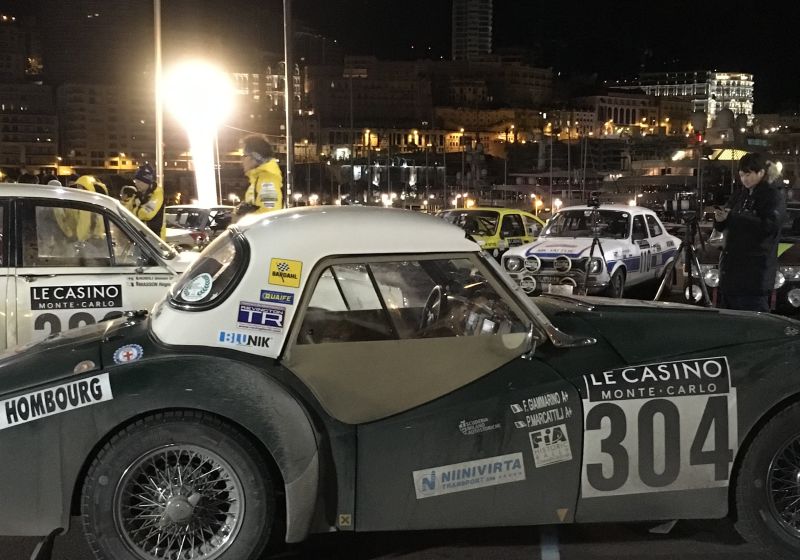 It is gratifying to be in a business where you can give your customers and friends the tools to do a good job and this is such an example.
We built Paolo Marcattilj's TR2 rally car for him in 2015 and from his first outing his results have been little short of fantastic. Paolo's, latest outing in the TR2 with co-driver Francesco Giammarino was the 21st Rallye Monte-Carlo Historique between 31st January and 7th February 2018. To say their performance was impressive would be the understatement of the year; 13th overall, 1st team prize, 1st in category and 1st in class. Well done to the whole team, Paulo, Francesco, Paolo's preparer in Italy Mr Salvetti and of course the sturdy TR2. As well as building the car in the first place we have constantly been involved with preparation for events such as the Rallye Monte-Carlo Historique and are extremely proud to have been a part of Paolo's great success, well done to all involved.
Paulo has written a few words for us, the photo shows the car at the finish and a very proud Paolo with one very large cup.
Neil Revington
TR2 success at 21st Rallye Monte-Carlo Historique 2018 - Paolo Marcattilj (Italy)

We feel highly rewarded and proud of the result we got a few days ago on the 21st Rallye Monte Carlo historique. Our TR2, the second oldest car in the rally, won its group (Group 1 pre-'61 cars) and finished 13th overall out of about 320 competitors; a very large field.
This was a great result as we were ahead of exceedingly strong opposition (particularly on snow/ice), both drivers and cars such as Scandinavian crews, Porsche 356, some front wheel drive 2 stroke cars like DKW and Wartburg, Volvo, Jaguar, etc. In overall position we were immediately following the Opel Ascona 2000 driven by Jose' Lareppe (12.th overall), 3 times winner of the Monte and a Lancia Stratos (11.th overall) driven by the driver who won the 2016 edition of this event.
Our 1954 TR2 long door which was very, very well 'rally-prepared' by RevingtonTR in the UK and constantly fine-tuned by Salvetti in Italy, proved to have such agility on hairpins and tight bends with masses of torque resulting in generally excellent drivability on tough and slippery special stages. This performance made many observers astonished that such a car could perform so well.
A special thank goes to my co-driver Francesco for having prepared so accurately for the rally and also - and especially - for having resided for 5 continuous days and nights, for over 2,600 kilometres, inside our small cockpit without having said one word about it, but just keeping himself constantly 100% focused on his difficult job.