CLICK TO VIEW


TRIUMPH PLATES
TYRE BLOCKLEY RADIAL 185VR15

Price Ex VAT @ 20%
£209.68
AVAILABLE This part is available to order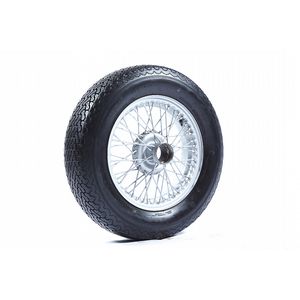 This Blockley 185 VR 15 is a modern designed full diameter "80 profile" steel belted Radial tyre, with an exceptional speed rating and period correct tread pattern, designed in house by Blockley. This V rated tyre reflects the higher speeds and cornering abilities our cars can now achieve. This tyre is a radial alternative to the cross ply 640x15 and 670x15.
This tyre has proven its worth with its unbelievable handling, ride characteristics and longevity. Many have commented on the lighter steering, as if power steering has been added! The wet weather performance is impressive, but best of all it looks good on the cars. This tyre provides an authentic look on 1960's cars such as American specification TR6 and Jaguar.
Please do remember all new tyres need scrubbing in and once scrubbed in great performance can be expected.
Every one of these tyres is inspected and checked for dynamic balance - The small painted yellow circle on the side wall can be aligned with the valve stem by the tyre fitter so they know the optimum place to put it.

Suitable fitment for many cars, such as :-
- Triumph TR6 (for USA use)
- Aston Martin DB4 (post 1962), DB5 and DB6 (series 1 and 2)
- Chevrolet Corvette C2 (1963 - 1967 )
- Citroen ID (ID21, ID19, ID21) and DS (DS21, DS23)
- Gordon Keeble. All models 1964 - 1966-
- Jaguar E type (S1 and S2) , Mk1 , Mk2 , S Type (we make larger sizes also)
- Jensen CV8, 541R, 541S and Interceptor (we make larger sizes also)
Technical specification
| | |
| --- | --- |
| Type | Radial |
| Rim Diameter | 15" |
| Tread Width | 196mm |
| Overall Width | 184mm |
| Overall Diameter | 677mm |
| Rim width (minimum) | 5.0" |
| Rim width (maximum) | 6.5" |
| Rim width (recommended) | 5.5" |
| Load Index | not specified86 |
| Speed Rating | V (149MPH) |
| Tread Pattern | BR1 |
Engine, Transmission, wheels/Tyres and Heating/Cooling
No catalogue plates are available