CLICK TO VIEW


TRIUMPH PLATES
SUSPENSION PAKG TR4AIRS-6 TARGA SS DAMPERS

Price Ex VAT @ 20%
£3246.01
AVAILABLE This part is available to order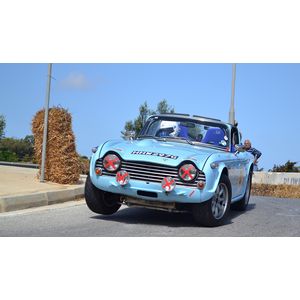 TR4A-6 Very Fast Road/Rally suspension packed to our 'Targa' setup; Super Sports dampers front and rear in our unique damper insider the spring rear conversion. SuperPro bushes are used front and rear.
This is as used on Neil's Targa TR5 in the version using SuperPro Polyurethane bushes. Our rear telescopic damper kit is incorporated as is as a 7/8" front Anti Roll Bar; no rear ARB is fitted as the strong rear springs do not need the assistance.
This kit has proved popular with those that want to use their car for competition and for touring pleasure where the emphasis is more towards competition success. As the kit uses SuperPro polyurethane bushes it is more supple than the Nylatron Version RTR3667-1NK. Whilst many competition successes can be attributed to this suspension package, the car is nevertheless a comfortable ride having been used on countless international endurance rallies (and won quite a few) the TR5 shown in the photographs has also been used to tour Ireland on holiday with comfort and of course a massive grin all day long. And when the flag drops the car can be a winner too, with two race wins; Mdina GP 2015 and King of the Carnival Barbados 2017 to name just two.
There are 5 variations of the basic kit to suit all needs with the option to fit the exceptional Nitron dampers at the front too.
Information Sheets
No catalogue plates are available