Electrical systems, Instruments etc.
INSTRUMENTS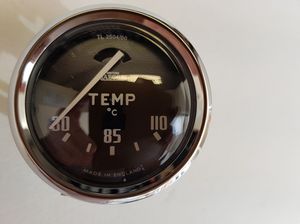 Revington TR offer a complete exchange service for standard TR instruments as well as being able to provide original instruments on an outright basis where originality is paramount and an exchange instrument is not available.
In addition to this we are pleased to announce that we can supply a complete range of new and improved instruments. These are made with steel cases and faces that are indistinguishable from original instruments when mounted in the dashboard. The crucial difference between original instruments and our new range is that the internals are modern bringing an end to wobbly needles and unreliability. new instruments have modern internals with lighting via a rear mounted tube similar to later TR small instruments. The appropriate bulb and holder are provided.
The exceptions to being 'indistinguishable in the dashboard' are the speedometers and tachometers in our range. These cannot be mechanical as the components required to build the instruments to a high quality standard are simply not available. These therefore are now electronic. What this meant to the user is ex pained in full in the expropriate sub section below.
To view the Triumph Catalogue Plates, please pick a car type