Classic Marathon 05
Published: 25 Nov 2005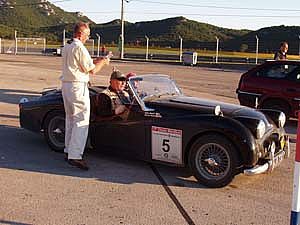 Revington Prepared TR2 tops the Class on Classic Marathon
Driving their 1955 Triumph TR2 prepared by Triumph TR specialists, Revington TR.
John and Nicky Walsh won the Clubman's Category on this year's Classic Marathon,
which took place from 11th - 16th September.
During the six days of rallying the Walsh's TR covered a total of 2097 miles, ventured
into seven countries, drove over a variety of roads and never missed a beat!
This year hearlded the 17th running of this popular and well established event. Starting
from the Adriatic resort of Opatlja, the first day saw competitors cross into Slovenia and
head to Zagreb. It was then across the mountains and into Bosnia for an overnight halt
in Sarajevo, followed by a run to Mostar, before crews headed towards the Dalmatian
coast and across the Croatian border to Gradac.
It was then back, via the Balkans, to Opatlja and then to Ljubljana in Slovenia, where the
route ventured into the foothills and forests of the Julian Alps before the finish back in
Ljubljana.
This incredible route through all manner of terrain was punctuated by a series of timed
Regularity sections and special stages, which were designed to put both crews and their
cars to the test.
For the Walsh's, the event began well, the husband and wife team from Wetherby, took
the lead of the Clubman's Category on the second day. From then on they continued to
extend their lead right up until day five, when their nearest rivals began to close in.
With one day left the pressure was on to stay in front, but using the TR's excellent
handling and agility they were able to maintain their position throughout the final tests
around sprint circuits, to cross the line one minute 50 seconds ahead.
At the finish a smiling John Walsh said: "We are delighted to have won the Clubman's
Category, especially on an event which is so demanding on the driver, navigator and the
car. The TR ran perfectly throughout the 2000 miles and its reliability is a major factor in
us being able to achieve this result."
Neil Revington of Revington TR is also pleased with the result: "I must congratulate John
and Nicky on their performance. For an event such as the Classic Marathon preparation
is the key to a reliable car. We pay a great deal of attention to detail when we carry out
pre-rally checks and experience has told us this makes all of the difference."
Revington TR offer a complete range of services for TR owners and competitors: Car
preparation, tuning, spares, bodywork repairs, restoration and technical support For
further details telephone: 01823 698437, or visit: www.revingtontr.com.