Meet the Staff
Published: 23 May 2016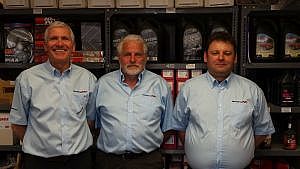 You speak to us regularly on the phone but who is that person who is always so helpful? well here is a photo of some of the team. The parts team are represented by Alan Goodwin (left) General manager, Dave McEwan(Centre) Goods in and despatch and Robert Weeks (Right) Parts Team Leader.
The lady responsable for our accounts is Bryony, so if you ever need to speak to her give her a call. It is usually only our suppliers she deals with so she is not in regular contact with customers. Alan tends to deal with most customer transactions and can be found on option 3 on the phone system.

We will be getting a photo of the workshop team up shortly.