Roly Poly lives on
Published: 15 Sep 2020
TR's never die, they just roll into new lives.

TR2 RYF 346

RYF346 is affectionately known a Roly Poly by its current owner Quentin Huggett due to having had an unfortunate accident at Goodwood in the 70's in the hands of its previous owner John Welburn. I was competing there that day in my TR2 TKR49 and remember the incident well.

John takes up the story and tells of his early introduction to TR's which pretty much mirrors my own... JNR

My enthusiasm for cars preceded TRs with XVE 95, a mini-van, which I very lightly customised and took me all over the UK, it seemed.

My brother-in-law, of the time, introduced me to an accountant, who was terrific and a solicitor, who I seem to remember had his own practice. Bill PIGGOTT!

Occasionally through life you meet folk who are transformational. Bill introduced me to sports cars. While Bill never ran a car business, his enthusiasm for cars led him to buy rather a large number, which had to be cleared out for the next lot!

My first TR was a 3A, NHS 319 (I think the number is correct. I bet Bill remembers) While its appearance seduced me, it was clear that she needed so much work that it could take 12 months. So, the plan was to buy something with less work - little did I know......

RYF 346 was my first TR2. She was dark green. We proceeded to replace some panels, with Cox and Buckles replica panels. The bonnet was original, from an early long-door TR2 and aluminium. She was sprayed black. This was to be my brand. I notice my modern racing driver and hero, Lewis Hamilton also now "favours" black. HeHe! I spent a fair amount at C&B and the car (I do not recall giving names to cars) looked pretty good from a short distance. We drove her (all my cars were girls) down to Goodwood for the Cox & Buckles TR Sprint. It was to be a most remarkable day.

When you drive a car fast, the most important attribute required is "feel". This comes in the form of feedback through the steering wheel and tyres. They should tell you what is required. You have to learn to get the maximum grip from their teachings.

Unfortunately, I was short of that knowledge, in particular tyres. They had high profiles - BAD. I did not put enough pressure in them - BAD and I did not sense the runes when I set of on the track, for the first lap.

If I recall correctly there were 4 runs. I believe I was in the "Standard" class. After the first run I put the pressures up a little, but not enough - BAD. Of course, the second run I tried to go faster and I did! Not so clever. It made me rather brave on the next lap. In this case -BAD.

I never managed the 4th round because the third run was my last. At St. Mary's (I shared the spot with Stirling Moss's tragic accident. Tragic in that he was never to win the F1 World Championship, I lost control. hit a bank and executed a 360-degree barrel roll. I was fine. Just shaken. RYF not so much. Somewhere there is a photo of this precise moment.

After a ride in an ambulance to the "parc ferme" I was staggered and joyful to hear (I think it was Pete Buckles) announce that there was a collection for RYFs rebuild. For every £1 donated, Cox & Buckles would donate items for the rebuild to match the value. This was tremendously generous.

Somehow, I and some friends transported the car to Rod Butterfield in Witney. Rod had a brand-new workshop within a small group of units. Presciently Toleman FI Team had a unit there.

We worked an amazing number of hours and without Rod's support we would not have got to Goodwood the following year. We finished the car the night before the sprint. I was exhausted and slept in the passenger seat while someone drove her. Was it Bill or Anne or my brother. I don't know.




JNR -

I remember the incident well as I do a photograph that I think Steve Wolf took of the car upside down in the air with Johns arms flaying around. There is no doubt that the roll over bar John had fitted contributed greatly to him walking away from the accident. This style of roll bar mounted on the wheel arches is the basis for the RTR9047 range we sell today.

At some stage, Bill Piggott re-acquired tghe car and in 1986 he seemed to be having another clear out and Quentin became the new owner. In those days she was still bent from the incident at Goodwood and would open the passenger door on a tight right hand bend! She was huge fun to drive, and with the original tracking and suspension was extremely lively at the rear end.

Fast forward to 2010 when we met Quentin and fitted our suspension package to the car (with difficulty as the chassis was bent. In 2015 we started the process with Quentin of rebuilding the car. Our mandate was to keep as much of the original car as possible as the history of the car was of great value to Quentin. It now looks quite bit different to when John raced it!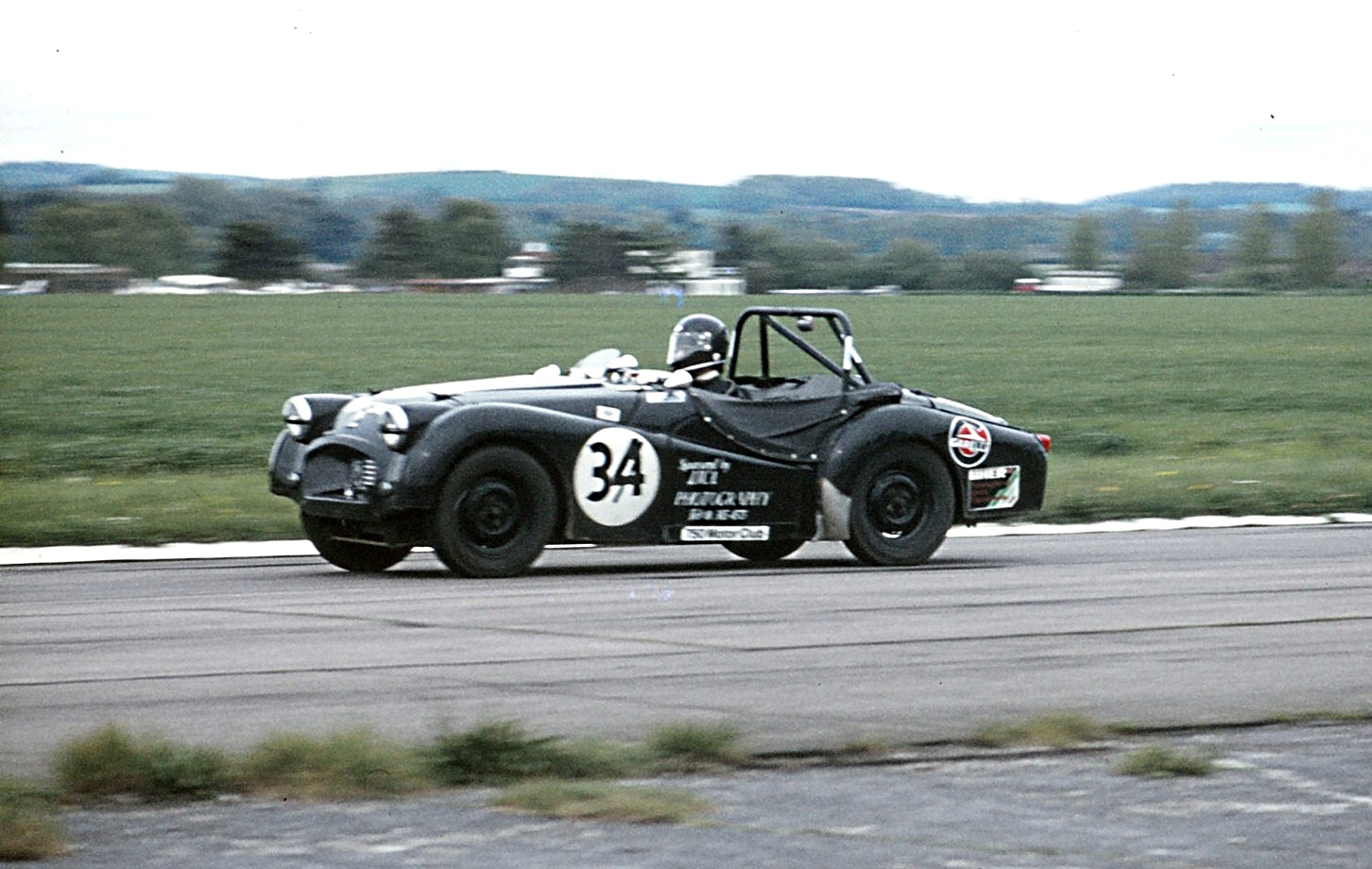 John Welburn in action at Goodwood
Finished and ready for collection from RTR