CLICK TO VIEW


TRIUMPH PLATES
FORK ASSEMBLY WITH PIN and spring TR3-3B M/cyl rod & TR2-4 clutch
Price Ex VAT @ 20%
£16.72
IN STOCK This part is immediately available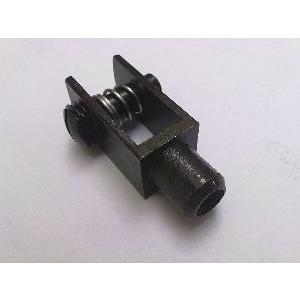 This fork assembly suits a 5/16" UNF shaft and is used on the TR2-4A clutch slave cylinder shaft and TR3A-B master cylinder shafts. It consists of a fork CF523572 and a pin and spring assembly 216421A
Consider also second hand part 057194KSH. We also well the parts individually
The smaller 1/4UNF fork part number 057190 is used on TR2-4 handbrake cables. The 057190 and 057194K pins and springs are not interchangeable.
NOTE: We have noted a major well known supplier is offering this assembly Bright Zinc Plated with gold passivate coating which are very badly made. The thread for the rod is 8mm (not 5/16" UNF) and is not tapped all the way through. The thread on the pin is too course meaning it is likely to undo in service.
The RevingtonTR product has all the correct features.
A longer pain clevis kit is available if necessary CF15305201K