Company Profile
Company Profile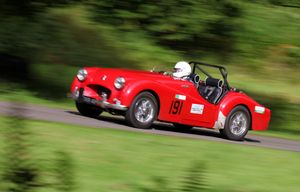 A Bit of History
RevingtonTR started, as many businesses do, by growing out of a hobby.

Neil Revington has owned a TR2 - registered as TKR49 - since 1970 when as an apprentice in the aircraft industry he bought the car for £70 from a fellow apprentice whist living in the YMCA hostel the apprentice school used as student accommodation. It wasn't long before lack of driving talent, coupled with rubbish tyres and poorly maintained suspension resulted in a spin on ice, taking out all four corners whist proceeding through the fence onto Denham airfield. The YMCA hostel was just behind the airfield, but this was not an appropriate shortcut. The car was not too badly damaged but as the car was only 70 pounds worth and barely MOT'able the relatively minor accident ensured other bits fell off than should not have. The car was rebuilt over the following two years in one of the sheds at the hostel and painted in Neil's room-mate's uncles home workshop. The 'rebuild' using lots of Dexion shelving and Ministry of Defence filing cabinets - techniques which are thankfully now no longer employed at RevingtonTR- was completed at the YMCA hostel late in 1971 with limited tools and certainly no welding equipment.

TKR49 is still used by Neil as daily transport and in competition. It's seen to the right at the Wilaston Pursuit Sprint on the Isle of Man in 1998 and is used to this day for all manner of expeditions; for going to the pub, to endurance rallies across Europe. You name it, this car has done it. A conservative estimate is that Neil and Sue have covered over one million kilometres in the car to date (Neil revised this in 2020)


Neil was apprenticed to the Aeronautical Quality Assurance Directorate, a branch of the Ministry of Defence (MoD) responsible for the quality of design and manufacture of all military aircraft both fixed wing and helicopters. Neil was employed by this branch of the MoD until the TR business was started in 1981, initially being called TR Spares South West.

This background in the aircraft industry laid the groundwork for many of the modifications which RevingtonTR have developed for the TR range.

RevingtonTR are situated in the heart of the Somerset levels in the South West of England - eleven miles from Taunton and six miles from Bridgwater and the M5 motorway.

We occupy a three acre ex-farm site, where the farm buildings have been converted to stores and workshops. In 2002 the farm buildings forming part of the courtyard of Thorngrove House, across the road were purchased and these were then converted to accommodate the administration of the business and the parts counter along with additional storage space. This building today is the focus of the RevingtonTR parts activity with the workshops remaining at the rear of Home Farm.




Neil Revington in his TR2 TKR49 at the Wilaston Pursuit Sprint on the Isle of Man, 1998.

Italia at Speed.

parts department

.
Services and Facilities

In addition to the manufacture and supply of new standard parts, second hand parts and uprated parts we can undertake any level of work on your TR.

Our facilities include:-

General repairs, servicing, restoration
Full tuning facilities on our 800HP rolling road.
Optical 4 wheel suspension alignment of particular interest to TR4A-IRS to TR6 owners.
Chassis preparation, engine and transmission building for Road, Fast Road, Rally, Hillclimb, Sprint and Race use.
Trimming in vinyl and leather

In fact preparation of part or all of your car for whatever purpose you intend to use it!

RevingtonTR is the trading name of RevingtonTR Ltd.
VAT Number GB 948 9696 35
Our trading Address is: - Thorngrove Barns, 10 Main Road, Middlezoy, Somerset TA7 0PD, UK
Contact details are Tel 44(0)1823 698437, Fax 44(0)1823 698109. E-mail info@revingtontr.com

Revington TR Classic Bucket Seats, in leather.

One of only two known Triumph Italia race cars. Prepared by RevingtonTR, 1997.