Revington Cars
Revington Cars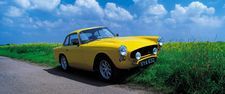 Revington TR's Recreations,
featuring

the Italia, TRS and The Beta

For many years the name Revington TR has been synonymous with building special cars based on the Triumph TR range. It is now our pleasure to bring you The Revington TRS Le Mans and the Revington Italia as well as the Beta, the panels for which we have been making for many years.

Our latest addition to this elite list is the very special Italia featured here.
| | |
| --- | --- |
| | |
| Revington Italia | Revington TRS |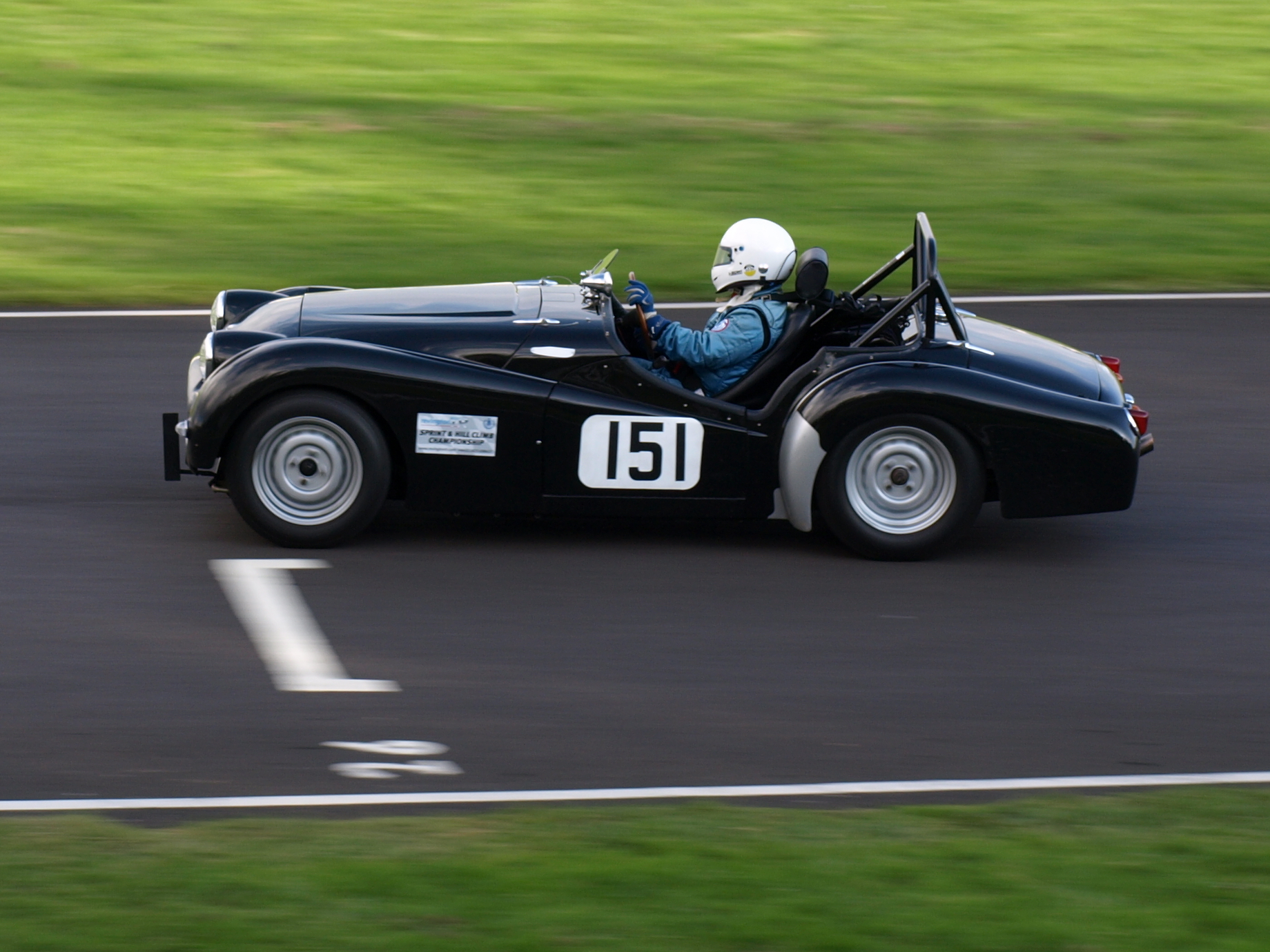 Revington Beta follow this link to learn more
-
Italia Reborn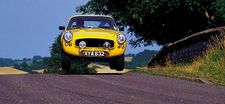 Paul Gerring explains the evolution of the Triumph Italia into the Revington Italia.
The history of the Italia has been well documented over the years but in summary, the car was designed by Giovanni Michellotti in 1958 and went into limited production in the following year.
The hand built bodies were fitted to complete TR3 chassis that were delivered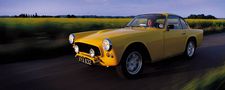 from Coventry to the Italian factory. The plan appeared to be to produce about 1000 cars and supply at least one to every Standard-Triumph agent around the world. In reality with the arrival of the TR4 these plans were scuppered as Standard-Triumph were rather keener to promote their new model rather than someone else's.
The result was that around 350 cars were sold although no one is sure precisely. Around fifty examples of this beautiful car are thought to survive today. But why should the Italia story end here?
What you see in the pictures is not another restored car but rather a development of the original. Sure the body shape is from the sixties but this car is a prototype for a whole series of built to order Italias.
Like so many ideas, this one resulted from too many beers with Neil Revington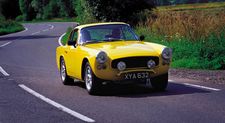 one Saturday night that actually resulted in me staying over on his sofa. The trouble was, as I have come to learn with Neil, he remembered the conversation perfectly on Sunday morning. Not only was I in the dog-house for not coming home on Saturday night but I had committed myself to some hair brain scheme of building new Italias! This would take some selling to my wife Jan that's for sure.
So the project was born and before I knew it Neil had "just come across an Italia for sale in France" and was off to see it. We bought the car in 1999 and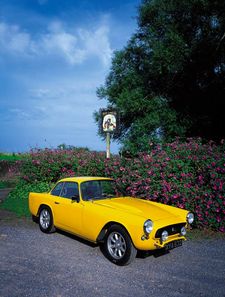 began the careful dismantling. To start with the chassis was completely stripped and modified as the factory did to the TR4 works rally cars. Neil has restored all three remaining works TR4's and as such understands fully the work involved. As with works cars the chassis was then painted white thereby making it easier to detect any cracks that might appear. This is a prototype after all. The "fast road" specification includes front and rear anti roll bars uprated springs, dampers, plus SuperPro polyurethane bushes throughout. In line with updating the car, rack and pinion steering has been fitted along with disc brakes all round. The braking system is actioned by dual circuits as fitted to the works Le Mans TRS prototypes and employed on the works TR4 rally cars 3VC and 6VC. Front discs have four pot aluminium calipers whilst on the rear axle a new disc brake kit incorporating a hand brake mechanism is fitted. This is now an option from Revington TR for TR2-4, Italia and TRS.
The body was an altogether different issue and for this prototype the original body has been used. This car has been converted to right hand drive but unlike other TR's this required a lot of careful measuring in order that all bulkhead modifications could be made and that new aluminium dashboards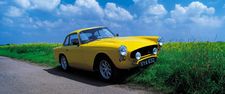 could be constructed. In order to recreate these cars we needed wooden bucks so as to reproduce complete shells or individual panels in aluminium in the future. This was no easy undertaking but has been achieved in conjunction with the reconstruction of this shell.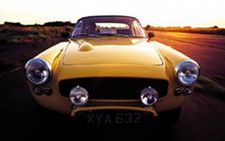 New doors were made and most of the lower body shell has been made again. It is well known that Vignale panel beaters used copious amounts of filler in final preparation of the body shells causing no end of problems. The end result that Neil and the team have produced is superb, although I think this car holds the record for the longest paint preparation time in Neil's workshop! That leads me onto the colour -for a prototype it needs to shout at you -fly yellow, a colour already synonymous with Italy does the trick.
Windscreens are already available thanks to Neil's work when previously tasked with restoring Jorg von Appen's Italia. Dedication to the remanufacture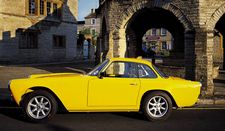 of specialist parts is of prime importance to all of us and is a particular service RevingtonTR has developed over the last few years.
We now had a rolling body-chassis unit but what of the drive chain? This engine is now fitted with 89mm pistons and liners, a fast road / rally camshaft and the bottom end balanced and lightened. A four branch exhaust manifold and stainless rally spec. exhaust system are bolted to a ported and polished big valve head.
A key part of this project is to improve reliability and driveability through the selective use of modem technology. Induction is by way of Webcon electronic fuel injection coupled to an ECU with distributor-less ignition, all operated by a magnetic trigger on the front of the crankshaft to ensure ultra accurate timing. The result is a very healthy 130bhp at the rear wheels but with modem reliability. This kit really works and the engine is always working at the optimum level. No longer do you have to worry about tuning carburettors and adjusting the points; just drive and have fun.
Power is delivered through an uprated clutch operated by an annular release mechanism. This does away with the normal external slave cylinder pushing on the cross shaft and instead fits nicely inside the bell housing. The result is much reduced travel of the clutch pedal for quicker gear changes. The gearbox is of the standard TR6 variety though reworked and coupled to overdrive on second, third and fourth gears. The solenoid is coupled to Neil's pro-logic kit that automatically drops out of overdrive when you change gear.
The interior is of classic design though not of the type originally fitted to Italias. In this case high backed leather seats provide all the support needed for high performance motoring and are complemented with a tasteful black trim and a rear bench seat. Instruments are modem cream faced dials which echo the classic theme, but instead of an array of flick switches, modem steering column stalks have been installed controlling the usual functions of wipers (two speed plus intermittent), indicators and overdrive. All electric circuits are separately fused as with modern cars.
Ventilation is via a newly developed air conditioning system, further improving the level of comfort in this modem Italia.
Wheels are of a personal choice - I have elected to run with 15x5.5J Compomotive alloy rims and Colway 185-80 tyres. All in all it makes for a very attractive package with excellent ride.
So after all that how does the car perform? The ride is firm but smooth and handling is excellent from the fast road /rally suspension
Part No.
Description and Comments
Price
Add to Cart

RTRI7000AL

Revington TR information: Body shell Italia, aluminium, complete with doors, bonnet and boot lid. This shell is a facsimile of the original Italia formed on a buck taken from an original Italia. This original shell was painstakingly prepared so... READ MORE

£53848.84

Ex VAT @ 20%
£44874.03

RTRI7000

Revington TR information: Body shell Italia, steel, complete with doors, bonnet and boot lid. This shell is not available in steel. Please see RTRI7000AL which is the same shell in aluminium. We can only do shells in aluminium. We... READ MORE