Revington Cars
Revington Cars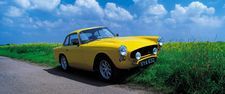 Revington TR's Recreations, featuring the Italia, TRS and The Beta
For many years the name RevingtonTR has been synonymous with building special cars based on the Triumph TR range. It is now our pleasure to bring you The Revington TRS leMans and the Revington Italia as well as the Beta, the panels for which we have been making for many years.
In principle these cars are TR2-4 with different clothing. Revington TR are in a unique position to be able to produce these recreations as Neil Revington owns the Zoom YKV260 prototype from which Triumph created the leMans TRs, as well as the prototype Beta 917HP. In addition Neil has owned two Italia, notably the yellow car featured here and a blue model from which the bucks were created to make completely new body shells. The same applies to the TRS too, an ex Aston Martin buck maker was employed to create a complete set of body forming tools.
Please click on the images below to read more about this elite list of RevingtonTR creations.
Part No.
Description and Comments
Price
Add to Cart

RTRI7000AL

Revington TR information: Body shell Italia, aluminium, complete with doors, bonnet and boot lid. This shell is a facsimile of the original Italia formed on a buck taken from an original Italia. This original shell was painstakingly prepared so... READ MORE

£61698.48

Ex VAT @ 20%
£51415.40

RTRI7000

Revington TR information: Body shell Italia, steel, complete with doors, bonnet and boot lid. This shell is not available in steel. Please see RTRI7000AL which is the same shell in aluminium. We can only do shells in aluminium. We... READ MORE