Revington TR's new TRS
Revington TR's new TRS
Revington TR's new TRS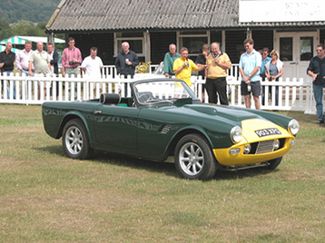 Following on from the
Revington Italia
production, we can now produce all aluminium TRS and complete TRS cars.
The car was shown for the first time at the TR Register International Show 2003 and met with considerable interest.
The shells are manufactured on specially made wooden jigs (known as bucks) which enables RevingtonTR to manufacture shells to order.

Like the Italia, which is also available with an aluminium body from RevingtonTR, the TRS is intended to be purchased as a complete car or for those wishing to carry out some work for themselves we will be pleased to supply a shell and a suitably lengthened chassis.
Should you be interested in purchasing either a complete car or the components to build one please call Neil Revington on +44(0)1823 698 437 to discuss your requirements, pricing and delivery time.
The Revington TRS continues to attract media attention and has featured in the on-line magazine 'Piston heads'. Please
click here
to go to the article.