Rolling Road Dynamometer: Revington TR's new facility
Published: 08 Jan 2005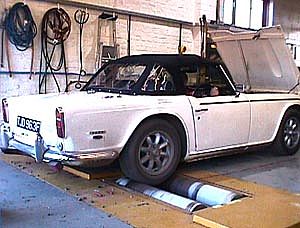 Revington TR are proud to announce the installation of our latest acquisition, a
400BHP water-cooled Rolling Road Dynamometer
. This purchase was timed to coincide with the development of our new workshop, which was completed during 2004. Installation of the rolling road followed soon after. This new equipment enables us to calibrate fuel and ignition settings on customer's cars and has proved particularly useful with mapping our sophisticated electronic fuel injection kits. In the case of mechanical fuel injection we now use the rolling road, in conjunction with a computer model of the metering unit settings, to enable us to more accurately set fuel delivery.
Historically it has been necessary where we had doubts about the correct fuelling of an engine, for us to take the car to a near by rolling road. Now that we have our own equipment we can undertake this work more efficiently.
Due to the similarities between most classic cars (basic engine with SU, Stromburg or Webber carburettors) we are more then happy to undertake work of this nature on classic cars other than TR's.
To find out more about our workshop facilities please
Click here