CLICK TO VIEW


TRIUMPH PLATES
CODENAME BULLET DVD - STORY OF THE TRIUMPH TR7 & 8
Price Ex VAT @ 20%
£16.01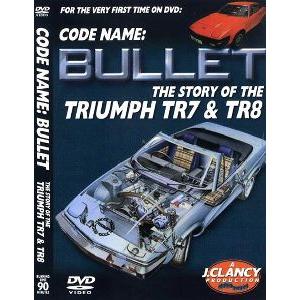 The Complete Story of the Triumph TR7 & 8. Including archive footage of the successful competition campaign & Interview with designer Harris Mann.
TR7: The Iconic Retro Wedge of the 70's
The biggest selling of all the Triumph TR sports cars and the last of the line
The car did not have an easy life. It was conceived and engineered at a time when the British motor industry was in turmoil; build quality was poor; it didn't have the performance to match its looks and many commentators could not understand its futuristic styling. Ultimately the surviving cars have proved the critics wrong and become sought after, eye catching, classic sports cars.
This film sets out to explain why the car was the way it was and features unput from TR7 stylist, Harris Mann.
Also covered are the assembly lines at the original Speke factory, the ongoing development throughout production, the advertising campaign and a look at the Abingdon TR7 Works rally programme including never before seen footage from ex-Competitions Manager, Bill Price.
Extra features are a close-up look at the TR7 derivative prototypes Lynx and Broadside, and full interview with Harris Mann.
For anyone that has ever owned a TR7, dreamed of owning a TR7, a bit of
a Triumph fan or just interested in cars, this DVD is for you.

The Abingdon Works Rally Programme
One of the most popular aspects of the TR7 history is the Abingdon Works
rally programme. We're often asked if there is any film of the rally
cars in action and thanks to ex-Competitions Manager, Bill Price, there
certainly is! Bill allowed us to use the footage he'd shot on Super 8
film which had never previously been transferred to video. This film
combined with other TR7 Works rally car extracts for which we were
granted permission and a wealth of historic stills make up a substantial
proportion of 'Code Name: Bullet'.

TR7 Conception, Production and Development
Including Interview with TR7 designer Harris Mann and a look at the lost prototypes the Lynx and the Broadside
But besides the rally cars the entire history of the evolution and
development of the TR7/TR8 is covered in this DVD. The TR7 designer,
Harris Mann, is interviewed giving a unique insight into the
requirements laid down for the new British sports car at the time of its
inception.

A wealth of historic images and footage helps to tell the TR7 story and
we also take a close-up look at the prototype TR7 variants housed at the
Heritage Centre, Gaydon. This was thanks largely to David Knowles who
had arranged access to the cars for his outstanding book 'Triumph TR7
The Untold Story'. None of these proposed variants to the TR7 ever saw
the light of day but help make the history of this iconic British sports
car all the more interesting.

Accessories, Tools, Services and Safety Equipment
To view the Triumph Catalogue Plates, please pick a car type