Salvage Hunters Classic Cars
Published: 11 Jan 2022 updated: 08 Feb 2022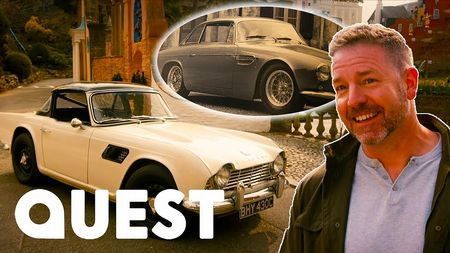 RevingtonTR assists Curve Media in bringing a TR4 to your screens on Discovery Quest 12th January 2022.
What seems like an eternity ago, before the world came to a grinding halt because of a new virus called Covid19, we had a strange call from a production company researcher enquiring whether a part we sold was compatible with another part from another supplier.
Details of its intended use were patchy, information wasnt very forthcoming and it took a lot of digging from Business Manager Matt before the fog started to clear and we could get to the bare bones of what they were trying to achieve. In short, what they were trying to do wasnt going to work with what they already had in mind.
After many phone calls, emails and head scratching we managed to put together a package that ticked all the boxes. The "client" was looking to fit a
backlight frame, roll bar
,
perspex rear window
and
roof panel
and
headliner
to a TR4 that was going to be the star of an upcoming programme. A deal was struck and it was arranged that the car would be delivered to us to have the work completed. Nothing out of the ordinary so far.... or so we thought, then BOOM. Enter stage left, Covid.
The client was Curve Media, the production company behind the very successful Salvage Hunters Classic Cars on the Discovery Channel presented by Drew Pritchard and Paul Cowland.
As with all TV production, work stalled, but not for us at HQ as due to the facilities we have on site, our staff were able to completely socially distance in different workshops. Work continued and pretty soon the job had been completed, however, the project was in danger of stalling and being mothballed until the world was the right way up again.
By this time, over cups of tea and a mutual love of old cars, we'd built up a very good relationship with key figures in the production company and bit by bit discussions were heading in the direction of us completing the entire build for them as their own workshops were closed.
This had never happened before and they were in new territory, eventually we shook hands, put the kettle on and got down to the nitty gritty of what they were trying to achieve. It was at this point Paul Cowland managed to wrestle the keys to 6VC out of Neils hands and give it a bit of a spirited drive around the lanes in the wet and mud!
The USP of the programme is to showcase artisan makers of parts manufactured for the car and luckily having been in the industry for 40+ years we know a few. Plans were hatched and you'll have to watch the programme to see how this progressed into the final product.
The show airs on Discovery Quest in the UK on January 12th at 9pm. Freeview channel 12, Freesat channel 167 and on Sky channel 144. the show can also be found
here
on Youtube
Our thanks go out to Curve Media, Paul Cowland and John Lakey for entrusting us with their vision and we hope you enjoy the show.