Laurent's TR5
Laurent's TR5
Laurent from Paris entrusted his beautifully presented TR5 to us when he lost confidence in a previous specialist engine rebuilder.
The car was brought to us initially for an engine rebuild to fast road specification and has since also received a whole host of improvements and upgrades to the suspension, fuel system, exhaust system, interior and electrics.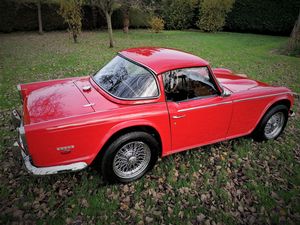 Sometimes, sadly, the reality of the car infront of you doesnt meet your expectations or the dream you were sold on. Some people muddle along fixing the most important issues first and your dream car moves down the ranks into a rolling restoration.
When you lose faith in whoever is working on your pride and joy you are faced with two choices, sell the dream to someone else or chase the dream until its realised. Thankfully Laurent chose the latter and chose Revington to help him achieve it.
Laurent has a beautiful example of an original LHD TR5 but wanted a little more excitement, safety and comfort to make his pride and joy ultimately more reliable and useable. Having had the car shipped to us from Europe we embarked on a journey together and the end result is a car that goes as well as it looks, is safe and exciting and will provide many years of trouble free smiles.
With modern technology underpinning classic lines, it really does tick all the customers boxes and we are all very happy with the end results. If you look through the tabs below, you can see exactly what we have done to the car with links to the relevant parts and kits. All of the kits mentioned above could be fitted at home by a competent DIY mechanic and come with full instructions where needed and we are also always on hand to provide technical advice.
Now finished, Laurent's 5 will soon be heading back to the continent where we hope that all the improvements we have made turn this from being a nice car into Laurent's dream TR5. It's been a pleasure.