CLICK TO VIEW


TRIUMPH PLATES
Exchange SENDER UNIT TR2-3
Price Ex VAT @ 20%
£116.49
*
Deposit Required
: A deposit is required for this part. This will be refunded in full or in part on receipt of exchange item, depending on the condition of the part received. Vat at the prevailing rate will be added to the deposit if applicable.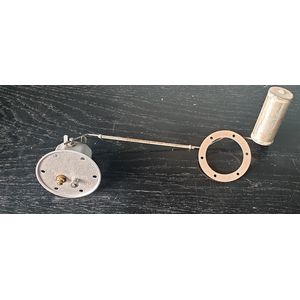 Exchange Fuel Sender unit fitted up to commission number TS11627 with code 80085/1 on the top face. A deposit applies until a rebuildable old unit is returned to us. Consider our new unit RTR8514. See below
As exchange units are only occasionally available off the shelf, customers own unit may need to be repaired. An easier option is to purchase our new unit RTR8514 outright.
We also have second hand parts in stock and can offer a new gauge and matched sender unit RTR8564NK or RTR8564PK, see below.
This sender unit was fitted up to commission number TS11627 and has the code 80085/1 on the top face and seems to work best with Fuel gauge 106964AEX which is marked FG2530/20 on the face. The sender unit has a resistive value of 3Ώ empty to 80Ώ full and will work on both positive and negative earth cars.
There were two fuel gauges used on TR2-3B. Confusingly there are two part numbers for the sender unit mounted on top of the fuel tank, but only one part number (106964) for the gauge. To make some sense of this we have created two discrete part numbers for the gauge and rely on the original part numbers for the sender units. Fortunately both gauges and both sender units whist looking the same, do have makers part numbers visible which ensures you can identify what you have. We can supply both gauges and sender units on an exchange basis (identified by the suffix EX in the part number) and can supply new gauges to work with our new sender unit RTR8514. We can also supply a gauge and sender kit, for both positive earth cars and for negative earth cars, this is our preferred solution. Order RTR8564NK or RTR8564PK which is a matched pair of a gauge and sender unit, the gauge looks identical to an original gauge when mounted in the dashboard. See below for details.
Gauge 106964AEX was fitted to early cars up to TR3 and 106964BEX was fitted to TR3A onwards however as these cars are 60+ years old there is no guarantee that what was fitted in the factory is still there today.
Difficulties have arisen in the past when early gauges have been mixed with later sender units and vis versa but as the general characteristics of both gauges and sender units are the same we do not have an explanation for this.
The two standard gauges and sender units are: -
Gauge 10964AEX (with PG163 printed on the face) works best with sender unit part number 202137 (marked ST-202137R 80085/1 on the top)
Gauge 106964BEX

(with FG2530/20 printed on the face)

works best with sender unit part number 203610 (marked FT3331/02 on the top face)
However, due to the difficulties described above we strongly recommend a new sender and gauge set RTR8564NK or RTR8564PK
See part number 203610 for commission number TS11628 and future.
We can also supply 'Dip tube' type sender units too which are less sensitive to fuel sloshing around causing false readings and are a must when the fuel tank is foam filled. See RTR8547-250 below
For those interested in the technical issues surrounding the compatibility of fuel gauges and sender units, please see information sheet IS0011 which is downloadable from the 'Further Reading' tab.