CLICK TO VIEW


TRIUMPH PLATES
HEATER UPRATED 4-6 COMPLETE ASSY

Price Ex VAT @ 20%
£915.47
AVAILABLE This part is available to order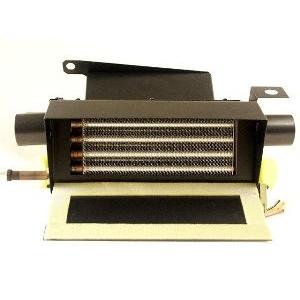 TR4-4A &TR5-6 Complete Heater improvement kit. Kit includes 3-speed squirrel cage motor/blower, high output aluminium radiator, 3-speed switch with a new main case and wiring. Built up ready to fit.
The high-energy aluminium radiator used in this kit produces up to 30% more heat than the standard radiator, even though the finned surface area visible through the outlet flap is slightly smaller than a standard radiator. This increase is due to the design of the blower cage, which causes significantly more air to pass over the internal surfaces of the radiator, and at increased pressure giving better ability
to overcome the air-flow restrictions in the heater box. In addition, the increased air-flow will achieve higher air temperatures.
This kit includes all the parts of RTR1396-1K plus a new main case, built up ready to fit. Comes with all outlets for TR6. TR4 owners use blanks provided for unused air outlets. TR4 owners may also need to change their glove box pocket to TR6 type to allow space for the extra TR6 air outlets. Order Part No. 815747 (standard fibreboard part) or 815747SAP (plastic version) This part number fits both LHD and RHD. If new mountings are required order SPF2463K. See below
This kit does include parts other kits may not include, please call for more details.

Engine, Transmission, wheels/Tyres and Heating/Cooling
To view the Triumph Catalogue Plates, please pick a car type