CLICK TO VIEW


TRIUMPH PLATES
TRADITIONAL TRIUMPH DVD - STORY OF THE TR MARQUE
Price Ex VAT @ 20%
£23.74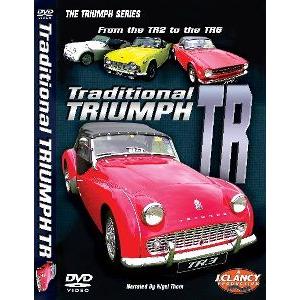 The Complete Story of the Triumph TR Marque from TR2-6. Including archive footage & Interviews with their creators.
Traditional Triumph TR
Watch the trailer for Tradional Triumph here!
The seperate chassis TR was to run from 1953 until 1976 - a period which saw turmoil within the British motor industry. But through it all the TR survived and brought the Triumph name acclaim and recognition throughout the world. From the moment the TR2 was unvieled the company would forever be associated with sports cars; a reputation that continues to the present day.
Featuring interviews with the engineers who developed the cars, Triumph historians and TR Specialists, our story begins with the pre-war sporting cars produced by the original Triumph factory and follows the saga through from the conception of the first TR to the last of the line TR6. A wealth of archive film and images is included throughout along with extensive new material, including the works race and rally cars as they appear today.
Extra is 'The Men Behind the Motors' this time featuring an extensive interview with Norman Rose, Standard Triumph Body Engineering Executive.
This DVD is sure to appeal to motoring and classic car enthusiasts alike and will transport you back to a bygone era - to a time when the Triumph TR was king of the road.