TR5/250
TR5/250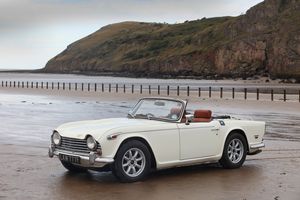 The TR5

The TR5 was essentially a stop-gap development of the TR4, pending the development of what became the TR6. Apart from detail changes, the TR5 has the same body as the TR4A and to all intents and purposes the same chassis.

The major changes were the engine and fuel system, with the introduction of the 2.5litre, 6-cylinder 150BHP fuel injected engine. It seems tame now but was a major step forward in 1968 providing 120MPH flat out. Elsewhere there were subtle styling changes and upgrades to the interior. Many of the comforts of modern motoring were introduced to the TR range at this time - electric washers, 2 speed self park wipers, reversing lights to name just a few. For my part, the TR5 is the best combination of style and performance.

None of these cars went to North America.
The TR250

Due to emission problems in the USA, the TR5 was released there as the TR250 with twin Stromberg carburettors substituted for the fuel injection. The engine produced 104 BHP, the same as the 2.2ltr TR4A! However the power was delivered more smoothly to occupants benefiting from a more civilised interior.

Only available in LHD format, this car also had a 3.7:1 final drive ratio, but was otherwise similar the TR5. One notable styling feature were the transverse speed stripes across the bonnet.

8,484 cars were built in 1967 and 1968.


Detailed changes are available via the link below
Technical Specification Change Points

Neil Revington