CLICK TO VIEW


TRIUMPH PLATES
Axial PUMP KIT PI cars, for fitment outside, with tap.

Price Ex VAT @ 20%
£498.53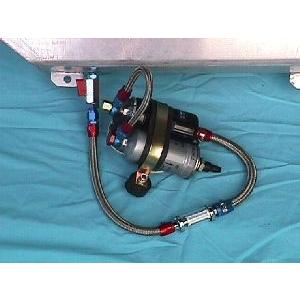 This High pressure Fuel Pump kit for TR5-6 Petrol Injection cars includes a motorsport grade axial pump, pre-filter and pressurised filter. Developed by RevingtonTR, externally mounted, this kit replaces the Lucas fuel pump and filter system with a neat arrangement consisting of a high pressure pump, non-return valve, gauze filter, pressurized filter, 3 stainless steel braided rubber hoses with aluminium aircraft quality fittings, clamps and rubber mountings.
Now compatible with E10 unleaded fuel, our Petrol Injection (PI) fuel pump kits have been giving unrivaled service for over 30 years. Our pump kits include all the important elements that make for a reliable high performing pump delivery system. We supply 3 types of pump kits: -
Inside the spare wheel well sold under part number RTR4050K, with stainless steel braided rubber hoses. This is the original incarnation of our pump system.
This kit RTR4050XK, which is mounted outside under the boot floor, and has been our benchmark product for many years, using stainless steel braided rubber hoses.
Our premium kit RTR4050-1K which also mounts outside under the boot floor but includes Teflon lined, stainless steel braided hoses, with a further external black protective layer, an aluminium cased high flow pre-filter and an additional carrier for improved assembly location.
it is important to choose the correct kit for your needs and to ensure all the additional equipment around the pump kit is appropriate to the new system.
More on this subject can be read HERE
An on/off tap is provided in the kit connected between the petrol tank and the first feed hose to the pre-filter making servicing extremely easy and reducing petrol spillage. At the time of writing we have not heard of this system failing due to hot weather over heating in more than 30 years of operation. Now considered to be the Industry standard, RevingtonTR developed the concept of these kits in conjunction with Bosch UK experts (although we now use a motorsport grade pump rather than a Bosch pump) taking into account all the requirements of the axial type pump, i.e. its position on the car, feed rate, position in the fuel system and filtration needs. A more detailed information sheet IS0006 is available to download giving detailed technical information. This document is also accessible via the 'Further Reading' tab above.
The pump kit is mounted externally to aid cooling and limit petrol vapour smells in the boot, always a problem with stainless braided rubber hoses (or indeed any rubber hoses) as modern fuels permeate though the hose wall, so whilst there may be no actual petrol leaks, there will still be petrol vapour smells in confined spaces i.e. in the boot where the petrol tank is situated. If this is likely to be unacceptable, choose kit
RTR4050-1K
which incorporates superior Teflon lined hoses.
An additional hanger bracket in stainless steel part number
RTR4014C
can be bought separately allowing the mounting screws of this kit RTR4050XK to sit in the recesses either side of the left hand boot floor thus allowing the boot carpet to sit flat.
NOTE 1: This kit must have a good electrical supply capable of passing 13 amps. The original car wiring is not adequate as the Lucas pump only requires 3.5 amps. We can supply a relay and wiring kit part number
RTR4017K
. See below.
NOTE 2: TR5 and early TR6 cars did not have an anti-surge reservoir in the petrol tank. Cars fitted with this type of tank will experience fuel starvation on tight left hand corners with less than a quarter of a tank of fuel. Our replacement tank fitted with the correct anti surge reservoir, part number 312359AL or 312359XALK (Highly recommended) should be fitted to remove this annoying symptom. Follow this
link to tank 312359XALK
to see a cutaway of this petrol tank showing the reservoir.
NOTE 3: Fitting RTR4050XK should take about three hours.
NOTE 4: When fitting kit RTR4050XK outside the bodywork, under the boot floor in the recommended position, mud shield
RTR7259
will be useful to help keep the pump and filter clean which will assist maintenance. This shield is best fitted in conjunction with our
underwing shield kits
NOTE 5: Also consider hose RTR4048 from the pump kit to the Pressure Relief Valve (PRV) which helps to reduce resonance. Resonance is when the PRV fluctuates at a resonant frequency with the pulses generated by the fuel pump and an unpleasant droning noise is produced. This phenomenon is unlikely to occur with the original Lucas pump but is very likely when an axial (Bosch style) pump is fitted. A longer soft hose RTR4048 from the pump to the original PRV usually cures this (a stainless Steel braided hose will make it worse) but brings with it another bit of bad news. As modern fuels are much more volatile than older fuels they can permeate through rubber hose and create an unpleasant smell in the boot. If this is unacceptable there is a definitive solution to all this. We supply a modern PRV, part number
RTR4456K
which works on a different principle to the original type of PRV and does not resonate. The good news is that with PRV RTR4456K fitted, a Teflon lined Stainless Steel braided hose (either 215642SS or RTR4048-1) can be used from the pump to the PRV which will greatly reduce petrol smells in the boot.
Before ordering 215642SS or RTR4048-1 inspect your axial fuel pump installation and choose the most appropriate hose. If you have a RevingtonTR axial fuel pump kit mounted externally under the left hand boot floor, 215642SS is likely to be your best choice.
215642SS has 90 degree fittings both ends and is 460mm (18-1/8") long
RTR4048 and RTR4048-1 have a 90 degree fitting one end and a straight fitting the other, length is 648mm (25") long
Hose 215642SS comes with one end loose so that it can be orientated correctly then tightened firmly. This hose is ideally suited to connecting our external axial fuel pump kits RTR4050XK and RTR5050-1K to the PRV. We recommend this hose in this application as it fits best with a pump shield and/or underwing shields. If your specific application requires a longer hose. use RTR4080-1.
Fuel and braking systems
To view the Triumph Catalogue Plates, please pick a car type