Mike's TR4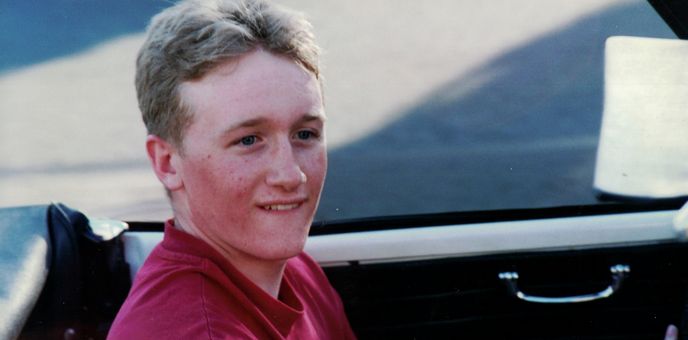 Mike's TR4
After growing up around TRs in the UK, when the time came for me to get my own car, its had to be a TR... And a TR4 at that. This is the story of resurrecting that very same car, 20 years later.
Hi, I'm Mike. I currently live in the MidWest region of the US, just outside Minneapolis. I'm an Optical Engineer by training, working and traveling internationally. I've been around old cars all my life, handing my dad tools as soon as I knew what they were. We left the UK when I was 7 (in 1987) but my dads 1957 TR3 which he had restored from a rusty heap came with us. I loved this car, helping wash & polish regularly as well as repairing and rebuilding bits as needed. I think I was 12 or 13 when I rebuilt the front suspension with only minimal supervision. At 14 I bought a 1961 MGA which was is a terrible state, the Ontario roads and salt had not been kind and it was in need of extensive metal repairs. I got the frame of this car completed but the following year the family moved again, this time to Portland, Oregon so the car was quickly reassembled enough for it to be moved. The MGA was never the "right" car for me, it was just a project to have some fun and learn with. When we got to Oregon I realized I could sell the MGA and make a small amount of money... And start the hunt for a TR. Getting my drivers license was not far away!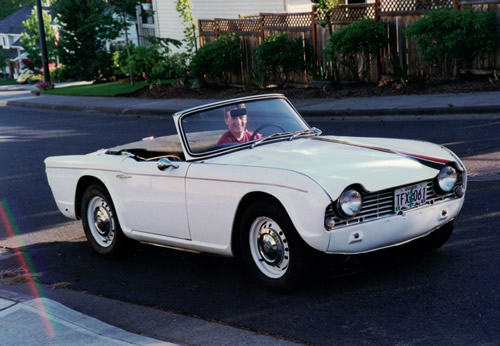 The car featured here was my very first daily driver. My dad and I bought the car in Oregon in 1996. After a few "fixes" and modifications (example: installing drains in the front wings to prevent rust in the sills) it was ready to be enjoyed. We rebuilt another TR4 engine for the car in standard form, installed it and I drove it for 18 months before meeting with a ditch, bending the frame and rendering the car un-driveable. I was motivated to get the car fixed. The car was stripped, bent frame removed, straight frame sourced (which was also stripped and painted), the original engine was gone through and "warmed up" with larger pistons etc... But then life, jobs, university, girls all got in the way of progress. Sadly the car sat, mostly in boxes and the rest under a tarp. In 2004 it was moved to Colorado with my parents but again it sat.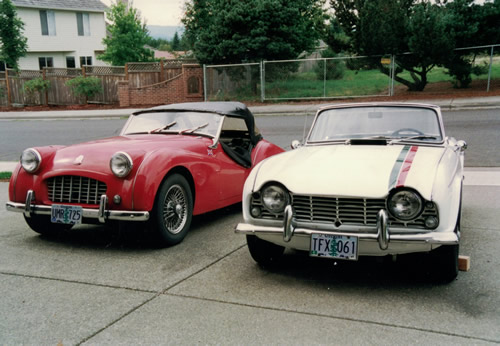 When I moved to Colorado in 2005 there was again some interest in the car. That said however, there was always one more project to get done so that working on the car could start. Heating my parents garage, buying my own house, insulating and heating that garage... Needless to say, no progress was made. Eventually in 2015 I had settled in Minneapolis, had a place of my own, lots of spare time and most of all some motivation. I moved the car from Colorado but then realized again that I had an unfinished and unheated garage (very important here!). Last year, 2017, all problems were solved when I bought a new house with a heated garage. The car was moved inside and as soon as some home improvements were done work has finally started!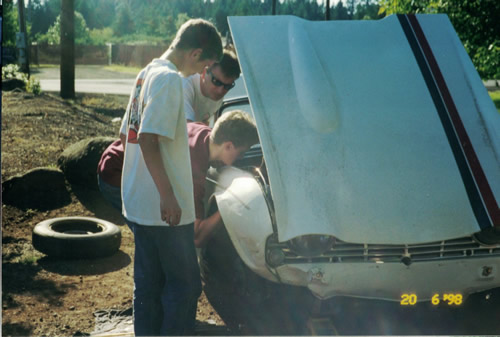 Incidentally my dad's TR3 (in the photo) featured in Bill Piggott's sidescreen TR book, photographed in a muddy quarry in Somerset England when it sported the registration number 880AYA
A full Revington TR Works Rally Chassis strengthening kit has been installed. The frame has been sand blasted, epoxy primed and then painted with a catalyzed enamel topcoat.