TRS le Mans
TRS le Mans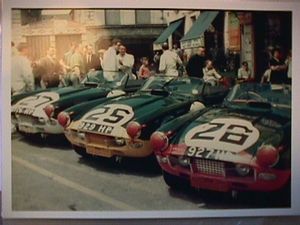 This section of the website is dedicated to the TRS le Mans.
To view other models click 'Home' and select another model.
Should you wish to view parts for all cars click 'Home' followed by 'all cars'.
Following on from the Revington Italia production, Revington TR are proud to announce the arrival of their latest project, the all aluminium TRS le Mans. follow the link
here
to read about the Zoom and our aluminium body shells. Whilst the original 4 cars manufactured by Triumph in 1960 for the le Mans 24 hour race had glass fibre bodyshells, the Revington TRS le Mans has an all aluminium bodyshell. The car was shown for the first time at the TR Register International Show during the summer of 2003 and met with considerable interest. The Shells are manufactured on specially made wooden Jigs (known as bucks), which enables Revington TR to manufacture shells to order. Like the Italia which is available with an aluminium body from Revington TR, the TRS le Mans is intended to be purchased as a complete car; or for those wishing to carry out some work themselves, we will be pleased to supply a kit of parts which would include as a minimum a bodyshell and a suitably lengthened chassis.
Should you be interested in purchasing either a complete car or the components to build one for yourself, please call Neil Revington on +44(0)1823 698 437 to discuss your requirements. Please
click here
to find out more.
Revington TR are continuously demonstrating the Revington TRS le Mans at race circuits around the country. If you would care to have a demonstration run either on the road or at a race circuit, please call Neil on +44(0)1823 698 437 to make an appointment.